Ryan Blaney will honor the late Neil Bonnett this weekend with his firesuit for the Hellmann's 500 at Talladega Superspeedway.
Blaney, driver of the No. 21 Wood Brothers Racing Ford, will once again use the throwback firesuit he wore in the Southern 500 earlier this season.
When he wore it at Darlington Raceway, it was as a tribute to Dave Pearson, who had a long career with the Wood Brothers. It will serve as a tribute to Bonnett, who replaced Pearson in the No. 21 halfway through the 1979 season and won three times that season.
Talladega was the home track for Bonnett, who was a native of Bessemer, Alabama.
"For Neil, Talladega was just like Martinsville is for us," co-owner Ed Wood said in a press release "There were all kinds of cousins there picnicking in the infield. That made it even more special for him to win there."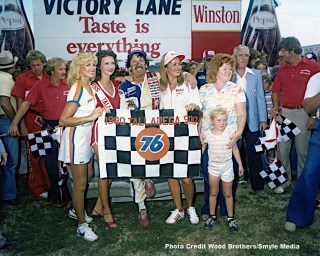 Bonnett earned one of his 18 Sprint Cup wins at Talladega in 1980. The No. 21  led seven times for 53 laps and led the final four laps to beat out Cale Yarborough, Benny Parsons and Dale Earnhardt Sr. for the victory.
"I'm really happy that Ryan wanted to wear the uniform this weekend to honor Neil, and I'm proud of the entire Motorcraft/Quick Lane team for backing him as we recognize one of the more popular members of the Wood Brothers racing family," Wood said.