There are only five races left in the 'Sprint' era of NASCAR.
The cell phone company departs as the title sponsor of the Cup Series following the Ford EcoBoost 400 at Homestead-Miami Speedway on Nov. 20. Clinching this particular title would have a little more meaning for Kurt Busch.
Busch, at 25 and in his fourth year in the series, kicked off Sprint's 12-year relationship with NASCAR in 2004 when he won the inaugural title, then the Nextel Cup. A corporate merger made it the Sprint Cup in 2008.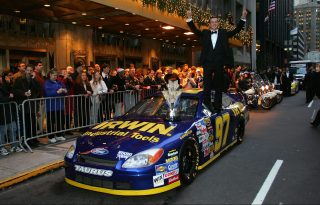 "That would be fun to be able to bookend the championship run with Sprint sponsorship of our series," Busch said Tuesday during a test at Homestead-Miami Speedway  "It's been an amazing run for them, a brand builder for both NASCAR and a cell phone company. When you're the first champion with a new sponsor it came with some fun responsibilities and good promotions."
Busch won the 2004 title, the first of the "Chase" era, while driving for Roush Fenway Racing.
"It's neat to see what (Sprint) benefited from and here we are now, it's at the end," Busch said. "2004 was a long time ago. It's time to upgrade the championship trophy to a 2016 one."
If Busch can survive in the standings until the finale, he'll have the chance to score the third Cup title for Stewart-Haas Racing – where he has been since 2014. Heading into the Alabama 500 at Talladega, Busch is sixth on the Chase grid, 17 points up on the bubble.
"Last year we came out of Kansas with a top-(six) finish and had 13 points as our cushion," Busch said. "This year we have a 17-point cushion after we finished 13th (at Kansas). It's a numbers game, and we feel comfortable where we sit."
But the fates of Busch and nine other drivers hinge on their result at Talladega, the 2.66-mile track notorious for wrecks that threaten to eliminate half the field.
"All we have to do at Talladega is finish 16th or better, no matter what anybody else does," said Busch of his best possible clinch scenario outside a win. "It's the same as having sixth or better or 36th or better because you never know when you'll get caught up in the big wreck and end up 36th or worse."
In his 17 years competing in the Sprint Cup Series, Busch has never won a points paying restrictor-plate race. He's finished third five times at Talladega but hasn't earned a top five there since 2007.
His average finish at Talladega through 31 starts? Just on target at 16.3.
"It's nice to have points in our pockets," said Busch. "That's the best feeling."