Jeffrey Earnhardt will drive the No. 83 car for BK Racing at Talladega Superspeedway, the team announced Monday.
Earnhardt, the grandson of Dale Earnhardt Sr., will have Starter as a sponsor.
He'll be in one of three BK Racing cars entered this weekend. David Ragan is in the No. 23 car, and Matt DiBenedetto, who regularly drives the No. 83 car, will be in the No. 93 car this weekend.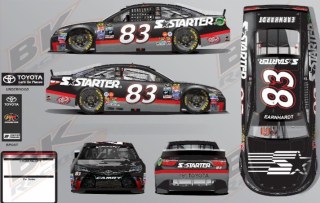 "I'm really excited to drive the No. 83 Starter Toyota Camry for the fall race at Talladega," Earnhardt said in a statement from the team. "It's my first Cup Series race at Talladega, my first race with BK Racing, the first time anyone from our family competes in a Toyota and it's the 25th anniversary of my grandfather's victory at Talladega. Having this opportunity with an iconic American partner like Starter is an incredible honor. I can't remember being so pumped up for a race and sincerely appreciate our friends at Starter for their support."
Dale Earnhardt Sr. won a record 10 Cup races at Talladega. His first victory there came in 1983. He won five of nine Talladega races from 1990-94.
Doug Richert, who served as Dale Earnhardt Sr.'s crew chief when he won the first of his seven titles in 1980, will be Jeffrey Earnhardt's crew chief this weekend.
"I'm looking forward to once again returning to the track as crew chief with an Earnhardt behind the wheel," Richert said in a statement from the team. "The Earnhardt family has played such an important part in my racing career; starting in 1978 with Dale Sr. and then winning a championship with him in 1980, it's very cool to work with the fourth generation of the family."
Jeffrey Earnhardt regularly drives the No. 32 for Go Fas Racing but Bobby Labonte is driving that car this weekend, giving Earnhardt the opportunity to drive for BK Racing.
Jeffrey Earnhardt's appearance at Talladega will continue the family's streak of starts at the track. An Earnhardt family member has started every Talladega Sprint Cup race there since 1980.