CONCORD, N.C. – As crew members hustled through the Sprint Cup garage last weekend at Charlotte Motor Speedway, there was one team that might have stood out.
Its car, equipment and uniforms were standard and blended in with the rest of the field furiously preparing for the Bank of America 500.
But closer scrutiny at those working on the car – while being recorded by a phalanx of cameras – would have revealed more to the story.
Or in this case, a script.
Logan Lucky spent a few days on location at Charlotte for a fully immersed shoot in the world of NASCAR. The Steven Soderbergh-directed movie, which is slated for release in the second half of 2017, is constructed around an elaborate heist during the Coca-Cola 600 and has a star-studded cast that includes Channing Tatum, Daniel Craig, Hilary Swank, Adam Driver, Seth MacFarlane and Katie Holmes.
The elevator pitch for the movie is Ocean's Eleven (another Soderbergh vehicle project) set in NASCAR with Charlotte's 1.5-mile track as the stand-in for Las Vegas' Bellagio.
"It is a sort of different world," producer Mark Johnson said. "Steven is obviously so good at doing heist movies, so the idea of doing this one in a NASCAR world is very similar. It's the same philosophy, just different characters and different worlds. In the Ocean's movies, you've got George Clooney and Brad Pitt in tuxedos. I haven't seen a lot of tuxedos here at the racetrack."
A scene shot last Sunday highlighted the unfamiliarity for Johnson, who is well accomplished in movies (part of the Academy Award-winning Rain Man in 1988) and TV (Emmys for outstanding drama with Breaking Bad in 2013-14) but wasn't as well-suited for stand-in work as an extra playing a NASCAR official.
"I was the only one who didn't know what he was doing," Johnson said with a laugh, showing off a pair of gray inspector pants. "So I just walked around the car. I was counting the tires. Yep, there are four of them. OK!"
Johnson said screenwriter Rebecca Blunt set the film at a NASCAR track because it seemed "very exotic. The idea of having a heist take place while there's a major race going on, just seemed like too delicious a concept to ignore."
But the producers needed help with fleshing out story concepts and critical details, such as whether a Sprint Cup car would be equipped with a rearview mirror.
A team of NASCAR and track officials was happy to assist, particularly given the film crew's attention to detail and nuance.
"We work on a bunch of different projects — TV and some film stuff — and we're usually fighting to make sure that things are authentic," NASCAR vice president of entertainment marketing and content development Zane Stoddard said. "These guys want it to be embedded, which is harder to do, so the scene is being shot that it feels like we're there at a race. AJ Allmendinger's car was literally right next to the car that was in the movie, and you wouldn't have known the difference aside from the army of cameras."
As the movie crew filmed a scene involving an ornery car owner ("a bit of a horse's ass who has a driver that he beats up without mercy – not that there'd be anyone in NASCAR like that"), Johnson said Allmendinger's crew wasn't distracted.
"As long as we stayed out of their way, that was fine; they had a job to do," Johnson said. "It was good for us in that it gives a great verisimilitude to the whole world because it is real. We're shooting a silly scene, and yet all of this reality is happening behind us that has this great context."
Shooting, which was scheduled to wrap this week, also took place at Atlanta Motor Speedway, but the crew took great pains to ensure the exteriors (all the way down to the colors of the concession stands) still resembled Charlotte "so the NASCAR fan would be able to see the movie and not be taken out of the, 'Wait a minute, that's not Charlotte. That's not how races go or what a car looks like,'" Johnson said. It was very important to get it right."
Stoddard, who also worked with movies crews while he was a marketing executive at the NBA, said NASCAR might be the "most difficult sport to make sure you get right because it's not about a general audience. It's about the guy who actually knows what's going on inside our sport."
The Logan Lucky production consulted with the NASCAR competition department for realism, but Stoddard said the crews didn't need much correcting.
"These guys are real, real pros," he said. "We've had a hard time finding flaws in things they've done."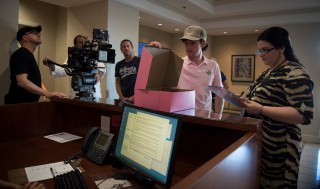 The film also will have some nods (or "Easter eggs," as Stoddard calls them) to eagle-eyed NASCAR fans, too, in the form of several driver cameos. Kyle Busch and Carl Edwards are playing West Virginia state troopers; Brad Keselowski and Joey Logano are security guards; Ryan Blaney is cast as a delivery boy, and Kyle Larson will drive a limo.
But Johnson said he hopes the movie mostly wins over NASCAR fans with its realism.
"The NASCAR fan is rabid in his or her sense of the sport, its history and the meticulous of it where a lot of NBA and MLB people love the sports, but aren't that specific," he said. "We felt a real responsibility to get it right, even though the movie is taking place in a world that doesn't – and really can't — exist. It's hopefully like all the movies and TV shows we do, you want to have respect for the audience. We'd love every NASCAR fan to see this movie. We want to make sure they feel the sport has been respected."
The grassroots support will help an independently financed movie that is planning a wide release despite the lack of major studio support. Johnson said the movie plans to advertise through racetrack signage and ad buys on NASCAR broadcasts.
Stoddard said NASCAR will support the film through its digital and social channels.
"It's in our best interests to make sure we're leveraging everything we can to make NASCAR fans aware of this and engaged in it," he said. "We've started to kick around some ideas. I know the film has the intent, just like with distribution, of being nonconforming, if you will. As we get past production and post-production, we'll start to look at figure out what are some creative things we can do together to help drive the release."