Yes, we know Jimmie Johnson got his win at Charlotte, and that locked him into the Round of 8. But that doesn't make him the favorite to win the championship.
That position goes to Brad Keselowski, who has a 20 percent chance to win the championship. He's ahead of four other drivers in the teens, including Matt Kenseth (16 percent), Kevin Harvick (13 percent), Kyle Busch (11.1 percent), and Martin Truex, Jr. (10.9 percent). It's only after all of those drivers do we see Johnson come in at 9 percent.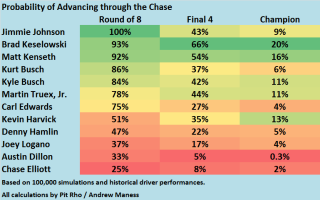 Johnson's performance throughout the season hasn't shown he's up there with this year's best cars – so even his recent performance notwithstanding, we're still looking at the usual suspects.
Looking at the probability of who advances to the Round of 8, you'll notice a big gap between Carl Edwards at 75 percent and Harvick at 51 percent, separating two packs of drivers. The five drivers who had problems last weekend really fell behind. In the case of Harvick, however, notice that his chances to advance to the Championship 4 and to be the champion are still very high relative to his 51 percent chance of advancing.
Basically what that means is if he can overcome the problems at Charlotte, he's still a top threat to win the title. His bigger issue is actually right now, as opposed to the later rounds.
"A lot of Chasers had problems last weekend that had little to do with speed," said Josh Browne, a former Sprint Cup crew chief and now co-founder at Pit Rho. "I'd expect to see the same cars up front this weekend at Kansas."
Also interesting is how even Keselowski and Kenseth, the two top drivers beyond Johnson, only have 92-93 percent chances of advancing. Consider Kenseth: He's up 31 points over ninth place. Typically we'd expect to see higher numbers here. The fact that he's not closer to 100 percent is answered by one word: Talladega.
"We'll surely see a mad scramble among the 12 Chase drivers to get a win before Talladega," said Browne. "Everyone's still got a decent shot at making it to the next round because of that dang track."
HOW THE PREDICTIONS WORK
With the help of Andrew Maness from the racing analytics firm Pit Rho, we ran the numbers to show every driver's shot of moving through each round of the Chase. The mathematical model was designed by both Maness and me, using past driver performance to predict future results. By running 100,000 simulations of how the rest of the season might play out, we see the most likely outcomes.
Eric Chemi runs data journalism for our sister network CNBC, including a heavy dose of sports analytics. Prior to that, his NASCAR forecasts have been on Sprint Cup television broadcasts, and he has consulted for Sprint Cup teams on strategy, statistics, data, and analytics. He graduated with an engineering degree from MIT.