In this video, Master Sergeant Raymond Viel and Captian Tyler Brown discuss the importance of the National Guard and their NASCAR experience at Dover.
Sunday's "Citizen Soldier 400" is sponsored by the feature film "Citizen Soldier," which — according to a media release — "documents the Oklahoma Army National Guard's 45th Infantry Brigade Combat Team (nicknamed the "Thunderbirds") 2011 deployment.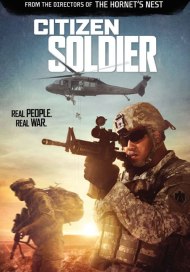 "Set in one of the most dangerous parts of Afghanistan at the height of the surge, it is a heart-pounding, heartfelt grunt's-eye view of the war.  The film tells the true story of an exceptional group of young soldiers and their life-changing tour of duty in Afghanistan, offering an excruciatingly personal look into modern warfare, brotherhood and patriotism.
"The largest mobilization for an Oklahoma unit since the Korean War, the 45th routinely fought enemy insurgents in close combat situations and lost 14 soldiers during its 96-day deployment."
Supporting the military is a natural for Dover International Speedway, which is about seven miles from Dover Air Force Base.
"The Monster Mile has deep connections to the men and women who selflessly serve in our military and who provide the freedom we all enjoy, particularly with our close proximity to Dover Air Force Base and the Delaware National Guard," said Mike Tatoian, Dover International Speedway's president and CEO. "Our partnership with Strong Eagle Media and its film 'Citizen Soldier' further strengthens that connection, and serves as another way for the remarkable stories and sacrifices of all of our National Guard and military members to be told.
"Since Sept. 11, 2001, the Oklahoma National Guard has deployed more soldiers, per capita, in support of the War on Terror, than any other state in the country."