It started when a guy in Indiana sent a snarky tweet about NASCAR.
More than six years and 157,000 postings on Twitter later, the @nascarcasm account has become a satiric phenomenon. With a large following that includes NASCAR fans and famous drivers, @nascarcasm turned into the unlikeliest of full-time jobs for its creator.
"There's not much preplanning and thought that goes into starting a Twitter account," Dave Vrabel, an Indianapolis resident who goes by the byline @nascarcasm, said during the latest episode of the NASCAR on NBC podcast. "It's just a dumb, little thing you do on some random day in June.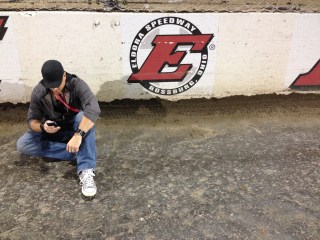 "It's really hard to describe something that started on a lark. It's a little surreal."
Other topics discussed by @nascarcasm on the podcast:
–The story behind his relatively recent NASCAR fandom;
–On being employed by NASCAR Digital Media and having to walk a fine line editorially;
–His best and worst jokes;
–His interactions with drivers and how well he has gotten to know some of them.
–How he used his platform in a poignant way after the death of his mother.
You can listen to the podcast by clicking on the AudioBoom embed below or download and subscribe to the podcast on iTunes by clicking here. The free subscription will provide automatic downloads of new episodes to your smartphone. It also is available on Stitcher by clicking here and also can be found on Google Play, Spotify and a host of other smartphone apps.
Here are time cues for easy references while listening: