Brennan Poole's racing career was born from a shopping trip.
Poole's father, Tom, had aspirations of buying a golf set for his son just after his second birthday. Knowing that most kids start young, Tom wanted Brennan to get used to having a club in his hand. Maybe one day he'd make a career of it.
Those plans changed once the family arrived at the toy store.
"I was walking around with my mom and came across the aisle that has all the big wheels and they had this little Corvette, just a white plastic power wheel that was on the ground," Poole told NBC Sports. "So I climbed up in it and started driving it around the store. My dad came back with the golf club set and was like, 'All right, let's go,' and when they were trying to get me out of the car I was not a happy camper. I was screaming and crying and just wanted to stay in the car and keep driving."
After what he called a "long dispute," Brennan got his way and went home with the Corvette. He drove it nonstop, which left his father with many nights of interrupted sleep. He would often wake up wondering, 'Did I plug in all the spare batteries?' If not, Brennan would throw fits.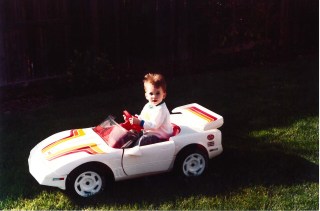 "We took it everywhere," he said. "I remember when my dad was a manager at a Midas, and when I would go there after preschool or whatever, the car was there, and I would be driving it around next to the cars in the shop. It was just something that I really loved from an early age, just driving something."
Poole put so many miles on his Power Wheels he went through more than one. Eventually, one of his father's co-workers, who raced shifter karts, suggested the two spend time together by going to see a quarter-midget race. Tom not only obliged but eventually asked Brennan if it would be something he was interested in trying for himself.
Poole began his quarter-midget career at 5. The rest, as they say, is history. But even when he started racing, Poole didn't lose his love for driving a Power Wheels car that quickly.
"I had them for a long time," Poole said. "I used to get all the stickers and stuff and put them all on myself; I loved it. My dad would be working on the quarter-midget in the garage, and I'd be beside him putting decals all over my Power Wheels."
As for the golf clubs, they also made it to the cashier that day, and Poole did take up golf for a bit when he was younger. In high school, he won a few tournaments but admitted it was never a natural love. All he wanted to do was race.
"I think it was kind of the first moment that I got to drive something, and something just clicked in my heart," Poole said of the trip to the store. "I feel like God put that in my heart at an early age, and so I feel like it was kind of destiny almost to be at the store that day, that Corvette being on the floor and me hopping in and driving it. That's kind of what led to me getting in a quarter-midget and starting racing."
In his first full-time season in the Xfinity Series for Chip Ganassi Racing, Poole will enter the series' inaugural Chase in Saturday's opener at Kentucky Speedway.
As he seeks his first career Xfinity win, that fateful day at the store is never far from his mind.
"I've got a picture that's taped on my bathroom mirror, and it's a picture of me in the backyard at our house in California, and my dad is showing me something with the Corvette," Poole said. "I've got some notes that I've written to myself also around that picture that are just a reminder for me of what God has done for me and where I'm at and just how incredible the journey from that moment and to now.
"To be in one of the highest series in motorsports in the world, man, it's just really amazing. When you're able to look back on all these cool moments, and I think of the path and everything and how I got to this point, it's just really amazing."