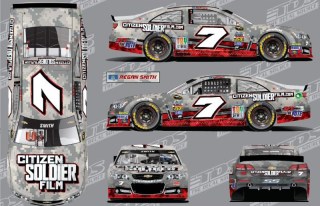 Regan Smith and his No. 7 Chevrolet for Tommy Baldwin Racing will be sponsored by the documentary "Citizen Soldier" for the Oct. 2 race at Dover International Speedway.
The race, which is the final event of the first round of the Chase for the Sprint Cup, is also sponsored by the film. The documentary was released on DVD, Blue-Ray and VOD on Aug. 30.
"Citizen Soldier" is a movie about the 2011 deployment of the Oklahoma Army National Guard's 45th Infantry Brigade Combat Team, aka the "Thunderbirds," to Afghanistan. The film features footage from the unit's 96-day deployment, during which it lost 14 members. The deployment was the largest mobilization for an Oklahoma unit since the Korean War.
The Citizen Soldier 400 can be seen Oct. 2 at 2 p.m. ET on NBCSN.