Martin Truex, Jr. was obviously the big winner at Chicago, but at the top of our Chase favorites we still see Kevin Harvick and Brad Keselowski. Like last week, they remain the only two drivers with at least a 10 percent chance of winning the title. There are seven other drivers with a title chance between 5 and 10 percent, but right now, that's all practically the same until somebody either breaks out or falls apart.
Even though Truex is the only driver guaranteed to make the next round, we've already got four other drivers with a better-than-90 percent chance of making it as well. Not in that group: Jimmie Johnson.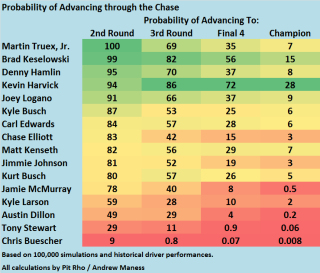 "Harvick and Johnson are fast enough to make it to the next round," said Josh Browne, a former Sprint Cup crew chief and now co-founder at Pit Rho, "but they'll need to limit mental lapses to make it to Homestead with a shot at the title. They both had fast cars Sunday, but mistakes took them out of contention for the win. The current Chase format really penalizes mistakes."
The interesting area right now is the cutoff for 12th between Jamie McMurray (right now at 78 percent) and Kyle Larson (at 59 percent). The two Ganassi teammates are straddling the border for 12th place probability. Larson has a lower chance of making the next round, but a higher chance of winning the title. That's because Larson has had more volatile results this season, including a win and running up front late in many races. McMurray has been more of a steady burn.
The very bottom of the list isn't surprising anybody: Tony Stewart and Chris Buescher. They were the two drivers least likely to make it through, and each week without a win is a week with a lower chance of making it. Remember, these guys didn't get in based on consistent performances all season, but rather due to individual lucky wins. They haven't shown the ability to rip off a string of top 10s to advance on points. Technically speaking, all 16 drivers, including these two, still have a chance of winning the title. Even Buescher has a 0.008 percent of winning it. He'll probably need another rain-shortened race.
HOW THE PREDICTIONS WORK
With the help of Andrew Maness from the racing analytics firm Pit Rho, we ran the numbers to show every driver's shot of moving through each round of the Chase. The mathematical model was designed by both Maness and me, using past driver performance to predict future results. By running 100,000 simulations of how the rest of the season might play out, we see the most likely outcomes.
Eric Chemi runs data journalism for our sister network CNBC, including a heavy dose of sports analytics. Prior to that, his NASCAR forecasts have been on Sprint Cup television broadcasts, and he has consulted for Sprint Cup teams on strategy, statistics, data, and analytics. He graduated with an engineering degree from MIT.