Remember the name Cayden Lapcevich.
It is the 16-year-old from Grimsby, Ontario, who is the youngest champion in NASCAR history. Lapcevich, at 16 years, 10 months, 16 days, was crowned the NASCAR Pinty's Series champion last Sunday, breaking the record Joey Logano set in 2007 when he won the K&N East Series championship at 17 years, 3 months, 28 days.
"It's pretty cool knowing that I was able to break a record that stood for a long time and it also being Joey Logano's," Lapcevich told NBC Sports. "He started in the same place I did, back in quarter midgets, so it gives me that hope that I'm headed in the right direction to make it to the Sprint Cup Series one day."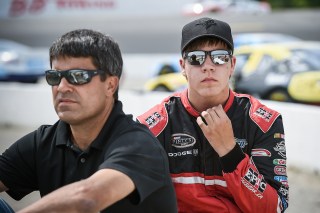 Lapcevich, a third-generation driver, was passed the torch by his father. Jeff Lapcevich raced in the Pinty's Series from 2007 until his retirement in 2015. There was never any question nor was it difficult, Jeff said, that Cayden was going to take over for him. He now serves as his son's car owner and crew chief.
Cayden's success, which includes the driver's championship, owner's championship, and Rookie of the Year honors, came despite long odds. Last fall, the family learned their sponsor of 25 years, Tim Horton's, would not be returning. Their plans to run a full season suddenly became a week-by-week decision.
"That was a big shock to the heart," Jeff Lapcevich told NBC Sports. "But my wife and I talked and said we would do what we could afford and at that point, we knew we could get to a couple of races. It was disheartening because we had a lot of faith in Cayden and knew that he could win races and be up front everywhere and be competitive. So I think it was emotionally hard on us because you want the best for your kids, especially when they want it so bad."
Cayden said that even a couple of days before his first race his mother, Sherri, "was still questioning herself of whether we should go or not."
Lapcevich ran so well that funding trickled in, leaving them to change decals on the car almost weekly. It was enough, however, to allow the No. 76 Fastline Motorsports Dodge to continue running. And Lapcevich knew he had to keep the car in one piece to help their efforts.
He took the points lead after a second-place finish in the season's third race at Autodrome Chaudiere. But the team, consisting mostly of family and friends, still knew nothing was set in stone. Lapcevich's first of three wins on the season came at Wyant Group Raceway, the seventh event of the year.
Over the course of the 12-race schedule, Lapcevich never finished worse than eighth.
"It was a funny season because we all went to the first bunch of races and we never imagined early in the spring that we were going to be able to do the Western swing," Jeff Lapcevich said. "(Cayden) was still really in the thick of things heading to that swing, which we had no plans to do, we didn't even have a truck. By the time we decided to go, which was literally about three days before we needed to be on the road, nobody on the team was able to make it.
"We went out there with only two of our regular guys, and we went to Edmonton and got some help from a local guy out there, and then we went to (Wyant Group Raceway) and recruited three more local racers to help us and actually got our first win there. So it was a big deal for us. Then we got back home and had the same group of guys, but we're still a very small team."
Lapcevich will celebrate with other touring and weekly champions at the annual awards ceremony in December. As for his plans for next season and beyond, Lapcevich has hopes of finding funding to race again in the Pinty's Series or try his hand at K&N or Camping World Truck Series.