Today's NASCAR Xfinity Series Drive For Safety 300 at Chicagoland Speedway will complete the 12-driver field for the inaugural Chase.
Kyle Busch is the defending race winner.
Here's all the info for today's race:
(All times are Eastern)
START: Dr. Mark Rosekind, National Highway Traffic Safety Administration administrator, will give the command start engines at 3:11 p.m. The green flag is set for 3:20 p.m.
DISTANCE: The race is scheduled for 200 laps (300 miles) around the 1.5-mile track.
PRERACE SCHEDULE: The Xfinity garage opens at 8:30 a.m. The driver/crew chief meeting is at 1:15 p.m. Driver introductions are at 2:30 p.m.
NATIONAL ANTHEM: Vincent Hooper and Cara Smith, cast members of the Helldrivers of Daytona musical, will perform the anthem at 3:05 p.m.
TV/RADIO: NBC will broadcast the race with its coverage beginning at 3 p.m. with Countdown to Green, followed by the green flag at 3:20 p.m. NBCSN will air the first part of Countdown to Green at from 2:30 p.m. to 3 p.m. Motor Racing Network's radio broadcast begins at 2:30 p.m. and also can be heard at mrn.com. SiriusXM NASCAR Radio will have MRN's broadcast.
FORECAST: The wunderground.com site predicts a temperature of 80 degrees at race time with a 10 percent chance of rain at the start of the race.
LAST TIME: The race became a dogfight between winner Kyle Busch and runner-up Matt Kenseth. Busch led a race-high 102 laps, while Kenseth led 84. Busch took the lead for the final time on Lap 178 of the 200-lap race and sailed to the checkered flag. Darrell Wallace Jr. was third place.
STARTING LINEUP: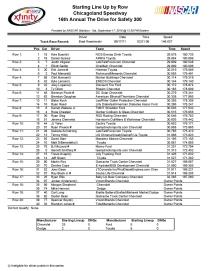 Follow @JerryBonkowski