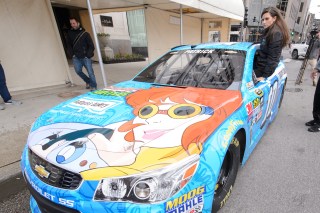 Nickelodeon is going all out this weekend to promote its Teenage Mutant Ninja Turtles cartoon at Chicagoland Speedway.
It's not just sponsoring the 400-mile Sprint Cup race  Sunday but will have the show's characters appear on seven different cars during the race weekend.
Danica Patrick revealed a TMNT paint scheme in downtown Chicago all the way back in April. Patrick's No. 10 Nature's Bakery Chevrolet will feature the character of April O'Neil.
The show will also be featured on five others cars in the Sprint Cup Series, one car in the Xfinity Series' Drive for Safety 300 and one entry in the Camping World Truck Series race Friday night in the American Ethanol E15 225.
In the Sprint Cup race, Joey Gase in the No. 32 Ford for Go Fas Racing will be one of them, featuring the character of Rocksteady, a mutant white Rhinoceros who is a member of the Foot Clan, the arch nemesis of the Teenage Mutant Ninja Turtles.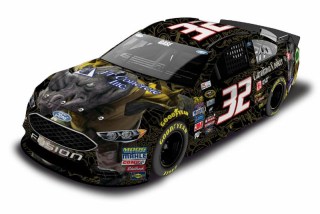 Landon Cassill and His No. 38 Ford for Front Row Motorsports will feature Bebop, Rocksteady's partner in crime.
Michael McDowell and the No. 95 Chevrolet for Circle Sport – Leavine Family Racing are the third Sprint Cup car with a TMNT scheme. McDowell's car will have the character Donatello on it.
David Ragan and his No. 23 Toyota for BK Racing will have Leonardo on his car.
Regan Smith and his No. 7 Chevrolet for Tommy Baldwin Racing will feature Michaelangelo. Watch Smith's car be wrapped in the paint scheme below.
In the Xfinity Series, Daniel Suarez will have the turtle Michelangelo on his No. 19 Arris Toyota for Joe Gibbs Racing.
In the Truck series, John Hunter Nemechek's No. 8 Chevrolet will have characters from both the TMNT and the Foot Clan. You can see Shredder, the leader of the Foot Clan and Leonardo, the leader of the Turtles, on the hood of the truck. The sponsorship gives Nemechek sponsors in six of the last eight races of the season.