Forty cars are entered for Saturday's The Drive for Safety 300 NASCAR Xfinity Series race at Chicagoland Speedway.
All but two seats are filled at this point. Two cars owned by Victor Obaika have not yet named drivers for the event.
Among Sprint Cup drivers entered for this race are Paul Menard, Kyle Busch, Joey Logano, Kyle Larson, Matt DiBenedetto and Clint Bowyer.
This will be the 21st Xfinity Series race held at the 1.5-mile Chicagoland Speedway. Kyle Busch is the defending race winner and has won four Xfinity events there since his first win in 2008.
Here's the preliminary entry list released by NASCAR on Monday: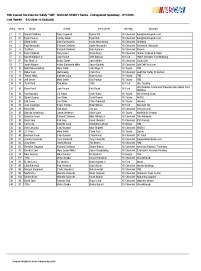 Follow @JerryBonkowski