While the focus of the Southern 500 is on throwbacks for the second consecutive season, Darlington Raceway's themed weekend also will have a cutting edge twist.
The new NASCAR Heat Evolution video game, which will be released Sept. 13 on PlayStation4 and XBox One, will feature the Darlington throwback schemes through a downloadable content feature, publisher Dusenberry Martin Racing announced Thursday. The game will have the 2016 Daytona 500 schemes, but a Darlington pack can be purchased online that will brand the cars in throwback schemes for the race. Paint schemes used at other tracks also will be available in future downloadable packs.
The Southern 500 car branding will be available in a suite of downloadable content that also will feature variable spotter audio (including current NASCAR spotters, drivers and announcers) and a series of "challenges" that will put players in historic real-world scenarios.
More than 1,000 photos were taken over a full day at Darlington Raceway to help build the layout of the 1.366-mile track for the game. The process starts with a computerized scan of the track surface to determine the correct turning radius, banking and straightaway lengths.
Developers from Monster Games then use reference points from the photos (also relying on satellite imagery; drones are being considered for usage in future photos) to build the SAFER barriers, walls, fencing, grandstands, pits and garages.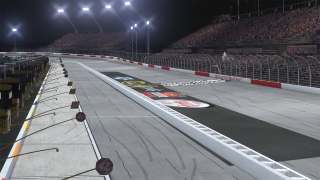 "That makes it the most authentic track we can," said Troy Harder, the leader designer for Monster.
The trickiest part is making the track surface reflect realism. Harder said sacrifices must be made in adhering to keeping the game quick and efficient to play with a consistent look.
"Even though we have scanned track data, millions and millions of polygons," Harder said. "We can't support that in the game. It will de-res the geometry. If you're not careful, you can screw up the track. You have to make tough choices. Sometimes there's a bump that we really want to keep at a track."
An example is the third turn at Daytona International Speedway. NASCAR Heat Evolution will feature the bump created by Juan Pablo Montoya's 2012 collision with a jet fuel dryer. Harder said it was with keeping in and finding less critical spots to remove the geometry.
"When you play our game, you can see color change in the pavement as you drive across it in T3 at Daytona, which is really cool," Harder said.
For more about how the game was created for Darlington, Dusenberry Martin Racing released the developer diary below.