Probably the only person more relieved than Kyle Larson after his win Sunday at Michigan was team owner Chip Ganassi.
"I remember when I got into this business, James Finch told me it took a hundred races before these guys could figure it out," Ganassi said. "Thank God we beat the triple digit by one."
Larson, who earned his first Sprint Cup win, was seven days away from making his 100th career start in NASCAR's premier series.
The 24-year-old driver made his first foray into the series on Oct. 12, 2013 in the Bank of America 500 at Charlotte Motor Speedway. Driving the No. 51 for HScott Motorsports, Larson finished 37th after engine failure on Lap 247.
Larson has 15 top fives, 35 tops 10s, 350 laps led and one pole (Pocono, Aug. 2014). He also has 13 DNFs. Larson's win gives him an average finish of 16.5 heading into his 100th start, Sunday's Southern 500 at Darlington Raceway.
"We've been close a few times throughout my Sprint Cup career," said Larson, who finished second four times before his triumph. "To finally put it all together and get a win, it's awesome. Glad to get it before my hundredth start next week."
Here's a look at how some of Larson's young peers and a few NASCAR legends fared in their first 100 starts.
Career starts: 109
First start: 2011 Hollywood Casino 400 at Kansas Speedway (Finished 26th, two laps down)
100th start: 2016 FireKeepers Casino 400 at Michigan International Speedway (Started and finished eighth)
Stats in first 100 starts: two poles, five top fives, 16 tops 10s, 52 laps led and five DNFs
Career starts: 136
First start: 2011 Coca-Cola 600 at Charlotte Motor Speedway (Finished 11th)
100th start: 2015 Irwin Tools Night Race at Bristol Motor Speedway (Finished 21st, four laps down)
Stats in first 100 starts: one pole, three top fives, nine top 10s, 36 laps led and six DNFs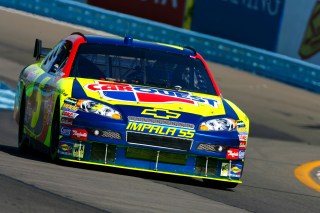 Kyle Busch
Career starts: 414
First start: 2004 UAW-Daimler Chrysler 400 at Las Vegas Motor Speedway (Finished 40th, crash)
100th start: 2007 Centurion Boats at Watkins Glen International (Finished seventh)
Stats in first 100 starts: Four wins, two poles, 24 tops fives, 43 top 10s,  1,107 laps led and 15 DNFs
Career starts: 257
First start: 2008 Dickies 500 at Texas Motor Speedway (Finished 19th, two laps down)
100th start: 2012 Bojangles' Southern 500 at Darlington Raceway (Started and finished 15th)
Stats in first 100 starts: Six wins, two poles, 14 top fives, 25 tops 10s, 598 laps led and eight DNFs
Career starts: 595
First start: 1999 Coca-Cola 600 (Finished 16th, three laps down)
100th start: 20o2 Mountain Dew 500 (Finished 16th)
Stats in first 100 starts: Six wins, five poles, 18 top fives, 30 top 10s, 1,919 laps led and 15 DNFs
Jimmie Johnson
Career start: 531
First start: 2001 UAW-GM Quality 500 at Charlotte (Finished 39th, crash)
100th start: 2004 Pop Secret at Auto Club Speedway (Finished 14th)
Stats in first 100 starts: 10 wins, seven poles, 35 top 10s, 57 top 10s,  2, 481 laps led and 12 DNFs
Career starts: 606
First start: 1999 Daytona 500 (Finished 28th, 19 laps down)
100th start: 2001 Pop Secret Microwave Popcorn 400 at North Carolina Speedway (Finished seventh)
Stats in first 100 starts: 12 wins, four poles, 38 top fives, 64 top 10s,  2, 795 laps led and 10 DNFs