He may have gone out last, but he came home first.
The last driver to go out in the second and final round of Camping World Truck Series qualifying, John Wes Townley roared to the pole for Saturday's Careers for Veterans 200 at Michigan International Speedway.
Townley topped the 31-driver field with a speed of 183.697 mph. It was Townley's second career pole and the second of this season (he also won the pole at Kansas).
"I didn't know what to expect here, but we have a great truck, the Jive 05, it's on point," Townley told Fox Sports 1. "I just hope we can keep it out front today, kind of make a plan from here and get us a win today."
Townley's Chevrolet was followed by five Toyota's: Matt Crafton was second-fastest (183.514 mph), followed by points leader William Byron (183.225), Timothy Peters (182.593), Christopher Bell (182.426), Brett Moffitt (182.297).
Johnny Sauter (182.159) qualified seventh, followed by Tyler Reddick (182.140), Grant Enfinger (181.938) and Cody Coughlin (181.827).
Today's scheduled 100-lap (200 miles) race takes the green flag shortly after 1 p.m. ET on MIS's high-speed, two-mile oval.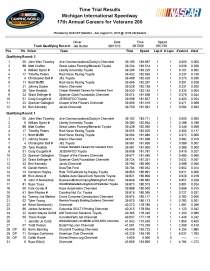 Follow @JerryBonkowski