Furniture Row Racing has announced the addition of a new primary sponsor for the No. 78 of Martin Truex Jr.
Tanger Outlets will sponsor Truex for the regular season finale at Richmond International Raceway. Its debut comes in the Sept. 10 Federated Auto Parts 400 on NBCSN.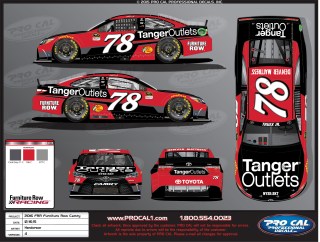 Tanger Outlets is based out of Greensboro, North Carolina, and operates and owns, or has ownership interest, in 21 shopping centers in 21 states.
"I take a great deal of pride that Tanger Outlets has chosen our Furniture Row Racing team for its first sponsorship venture in NASCAR," said Truex in a press release. "It's an honor to have a successful, high-profile company be part of our team. The Tanger Outlets company has been a winning business story for decades and having its name on our car will give us even more incentive to get to Richmond's Victory Lane."
So far this season Truex has been sponsored by Furniture Row, Bass Pro Shops and Auto-Owners Insurance.