If your name is Harrison Burton, your racing career can only start one way.
As the 15-year-old driver remembers it, the setting was the infield at one of the many tracks on the Sprint Cup circuit.
Burton was 2 at the time, his vehicle was a small, battery-powered car. His race course was a series of cones set up by his father, Sprint Cup driver Jeff Burton.
"Even at two years old, I wanted to race," Harrison Burton told NBC Sports.
A 21-time winner on the Cup circuit and now an analyst for NBC Sports, Jeff Burton was already in teacher mode.
"I guess my dad actually started to take it a little bit more seriously," Harrison Burton said. "He'd be like 'You need to be doing this with your line, then doing this.'"
That scene led to one a few months ago with Harrison Burton in his yard playing catch with Pippen, one of his family's three dogs, when his mother, Kim Burton, came outside to give him the phone. A NASCAR representative called to tell the K&N Pro Series East driver that he was going to be the youngest member of this year's NASCAR Next class.
The following Q&A has been edited and condensed.
NBC Sports: What is it like being a 15-year-old driver getting this kind of recognition this early in your career?
Burton: It was awesome. I'm part of a class where I'm the youngest one, but where I feel right at home with all these guys and girls. It's pretty cool. As for me, racing, my dad made this very evident when I started it, it's an adult thing to do. As soon as you strap on that helmet, you're a grownup like everyone else and they'll treat them the same. For me, it didn't mean a whole lot as to my age. I think that race car drivers, as soon as you strap that helmet on, you have an even playing field as far as age, sex, height, weight.
NBC Sports: Do you feel like an adult?
Burton: No. Only when I'm in a race car do I feel like an adult. I'm still fairly childish I'd say. My mon can attest to that, I'm sure. I don't feel like an adult yet. Soon enough, I guess.
NBC Sports: You'll get to race in the Camping World Truck Series later this year at Martinsville with Kyle Busch Motorsports. How did that deal come together and what are you expecting from that experience?
Burton: My dad is kind of my manager I guess you could say. He hasn't really told me the full story on how that's all coming together. I think that's because I'm a blabber mouth and I might tell people. I do know I'm going to a great organization with guys like William Byron, Christopher Bell, Kyle Busch that have all shown success in these trucks. They're proven to be fast. I think it's a great environment to prove myself.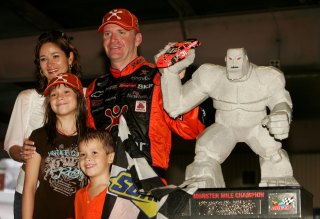 NBC Sports:  In the K&N series you've raced at Bristol, Watkins Glen and Loudon. These are tracks you grew up going to with your dad's racing career. What's that been like for you getting to experience these tracks in their truest form after watching from the garage or the RV for so many years?
Burton: It's different than I expected it to be. I think everyone looks at these faster tracks and gets a little bit nervous about them I guess. I was too, I was nervous about going to Bristol, I was nervous about going to Watkins Glen, especially. But what it comes down to is fundamentals of what you're doing. If you can make a car go fast, you can make a car go faster. It's a big challenge to learn the race track and you see how it goes.
NBC Sports: Of those three Cup track you've raced at, which one was the most surreal experience for you?
Burton: For me, Bristol. I got to go and see my dad win there (in 2008). My dad won at Loudon as well, but I wasn't there, I was racing at that point. I was there when my dad won at Bristol.
NBC Sports: This early in your career, what is it that you look for in a race team that isn't necessarily 'they're successful'?
Burton: First off, are you going to have fun? That's what we're doing it for. It's a serious matter, obviously and we take it very seriously, but we're having fun while doing it. I want to have guys where I can go to the shop and have fun with and be at the race track and have a good time with. Obviously, I want to have fun, but I also want to have intensity during practice and during the race.
NBC Sports: Do you remember the first time you told your parents you wanted to pursue a racing career?
Burton: The thing I do remember the most was … in quarter midgets, which was where I started, there is this national touring series that you can go run. We're out of North Carolina, but the first race is in Phoenix and it's (places like) San Antonio. It's pretty crazy. We've got 11 year olds traveling to Phoenix to race. At that point, I was just running at a local race track as much as possible. I went and I asked my mom, I didn't ask my dad because I felt he would have been harder to ask. It was really hard, because she had to give up so much. That was really the point where she sacrificed time for me so I could go and race and get better with all the best drivers that were in quarter midgets. I remember, I sat there and we all started crying, I don't know why, it was really emotional. She ended up saying yes and we didn't look back.
NBC Sports: What do you consider your theme song?
Burton: Me and my mom used to sing this song while going down the road, it's "House of the Rising Sun." That's a good song. We used to sign that and still do whenever it comes on. Not for any particular reason for the meaning of the song, just because me and my mom listened to it.
NBC Sports: What's the hardest you've ever laughed?
Burton: We were about to do the announcement for NASCAR Next, I'm kind of going to throw Todd Gilliland under the bus here, but Todd was absolutely shaking. He was so nervous to go onto Race Hub and everyone was making fun of him for it. That was probably one of the hardest times I've ever laughed, watching Todd sit there and shake getting ready to go on TV.
NBC Sports: What was your favorite paint scheme that your dad drove?
Burton: When I was a kid I really loved the purple Prilosec car that had lightning bolts all over it. Prilosec OTC, No. 31. That thing was definitely my favorite, I guess the lighting bolts did the trick for me as a kid.