There will be not one, but two cars honoring the late Alan Kulwicki in the Sept. 4 Southern 500 at Darlington Raceway.
Roush Fenway Racing announced Tuesday that the No. 16 Ford of Greg Biffle will be sponsored by Hooters for the race and will have the paint scheme driven by Kulwicki in more than 55 of his 207 Sprint Cup starts before he was killed in a place crash on April 1, 1993. It was Kulwicki's paint scheme when he won the 1992 Sprint Cup championship.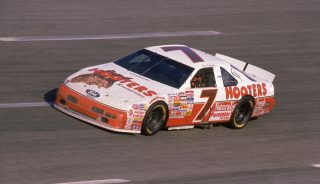 It joins the paint scheme of Regan Smith, who drives the No. 7 car for Tommy Baldwin Racing. The No. 7 was the number used by Kulwicki beginning in 1987.
Biffle and Hooters have also teamed up to campaign Congress to establish a National First Responders Day.
As part of the effort, a petition has been created with a goal of 1 million signatures. The petition can be signed at firstrespondersday.org.
"I was a huge Alan Kulwicki fan, so this is a really special opportunity to get to honor him in this way," said Biffle in a press release. "I'm also a fan of Hooters and really excited to support the campaign to create a National First Responders Day. There are so many men and women who risk their lives each and every day to keep the rest of us safe, they are the real heroes and definitely deserve a day of recognition."
The Southern 400 will air on Sept. 4 on NBC.
MORE: Retro Rundown of Southern 500 paint schemes