BRISTOL, Tenn. — Kyle Busch made it clear what he thought of Brad Keselowski after their incident in the final laps of Friday night's Xfinity race at Bristol Motor Speedway.
"He's a dirty racer,'' Busch said without breaking stride as he left the garage area.
Keselowski's response?
"We race each other hard,'' he said. "That's what racing is all about. He would have done the same thing if he was in my shoes. I'm 100 percent certain. I guess we're both dirty racers by that definition.''
Add another chapter in this rivalry between the two hard chargers.
Keselowski acknowledged that Busch had the better car Friday night.
"He was really good,'' Keselowski said. "Kyle is really good at this track. He was quite a bit faster. I was trying to hold him off anyway I can.''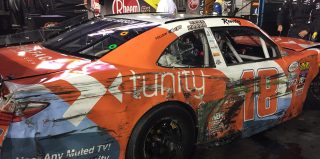 Then came Busch's move four laps from the scheduled finish in Turn 3.
"The bottom groove was just a little bit faster in (Turns) 1 and 2 than it was in (Turns) 3 and 4 and he knew that and made a real smart move and got up next to me, but I had the big run on exit and he wasn't quite cleared,'' Keselowski said.
"I knew he needed to come up because the bottom groove in (Turns) 3 and 4, the bottom groove wasn't as good. He knew he needed to come up but there wasn't enough room. I was already there. Clipped him in the right rear. It was tough. We were battling really hard. Definitely didn't want to see it end that way.''
Busch could not continue and finished 24th. Keselowski, who led 67 of the 308 laps, and placed 12th. He ran out of gas while leading under caution, as the race went into overtime.
This isn't the first time they've had an incident at Bristol. Keselowski called Busch an ass in driver intros before the 2010 Sprint Cup race – a day after Busch wrecked Keselowski. Busch was upset that after passing Keselowski, his foe ran into the back of Busch's car and nearly wrecked him, so at his next chance Busch wrecked Keselowski.
In 2012, their last-lap duel for the lead at Watkins Glen helped Marcos Ambrose win.
In 2013, Keselowski declared "war" after getting turned by Busch in an Xfinity race. Keselowski called Busch a "dirty driver" that day.
Last year, Busch took offense at a blog post Keselowski wrote about their relationship and a couple of specific incidents from their past. Busch didn't recall one but said the other time he ignored Keselowski was because of Keselowski's "weekly making an ass of himself of wrecking people and being an idiot, so I had no respect for him so I didn't want to talk to him."