Joe Gibbs Racing has partnered with Tide to sponsor the No. 20 Toyota of Matt Kenseth for the Sept. 4 Southern 500 on NBC. Tide sponsored Darrell Waltrip, Ricky Rudd and Ricky Craven in NASCAR's top series. The Southern 500 will mark Tide's first time as a primary sponsor in the Sprint Cup series since 2006.
The team announced the sponsor with a car unveiling Tuesday at the NASCAR Hall of Fame in Charlotte, North Carolina. All three former Sprint Cup drivers helped unveil the car.
"Tide has such a rich history in this sport," said Kenseth in a press release. "I can't think of a better race to make their return to NASCAR than for the Southern 500. I'm looking forward to being a part of the second annual throwback weekend and am proud to represent such an iconic brand."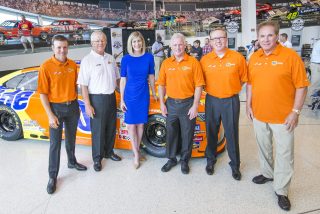 Joe Gibbs Racing is celebrating its 25th anniversary this season, while the Tide brand celebrates its 70th.
This is a more proper throwback after Josh Wise's car last season had the Tide colors and the right number, but not the actual sponsorship for the Southern 500.
Waltrip, Rudd and Craven all won with Tide as a sponsor. Waltrip claimed nine wins with Hendrick Motorsports, including the 1989 Daytona 500. This is the third Sprint Cup paint scheme for this year's Southern 500 that acknowledges Waltrip's career. The paint schemes of Ricky Stenhouse Jr. and Denny Hamlin will evoke Waltrip cars. Blake Koch in the Xfinity Series also will drive a paint scheme modeled after an old Waltrip ride.
Rudd was sponsored by Tide for nine seasons beginning in 1991 and also earned nine wins with it, including the 1997 Brickyard 400.
Ricky Craven earned both of his Sprint Cup wins with Tide, including the 2003 Carolina Dodge Dealers 400 at Darlington. That race ended with the Craven edging Kurt Busch by .002 seconds, the closest finish in NASCAR history.