Even though he was half a world away from his native Israel, Alon Day felt right at home in Saturday's NASCAR Xfinity Series race at Mid-Ohio Sports Car Course.
In making his Xfinity debut, Day became the first Israeli-born driver to compete in a NASCAR race in the United States and finished a respectable 13th, including challenging for the lead at one point.
"Everyone was very welcoming, all the drivers," Day said. "Every driver I talked to tried to help."
Part of the reason Day seemed so comfortable behind the wheel of the No. 40 Dodge is his past experience in road course racing as well as racing in the rain overseas. When the rains came early in Saturday's race and again heavier late in the event, it actually played to Day's experience and skill set.
"I was hoping for rain, I was really actually praying for rain," Day said. "I knew I could do something real good in the rain because I used to drive in the rain in Europe. Fortunately, when it came, I settled into third position and was fighting for the lead.
"I knew the rain would come and I could get some spots (to challenge). The moment the rain hits, and I realized we would change to rain tires, I knew I had the speed and would attack as soon as possible.
"On the first restart and attacking immediately, I knew some guys would be slow in the rain. I have experience on the rain in Europe, I used to drive in the rain all the time, so I'm really happy. I can't imagine how excited I am."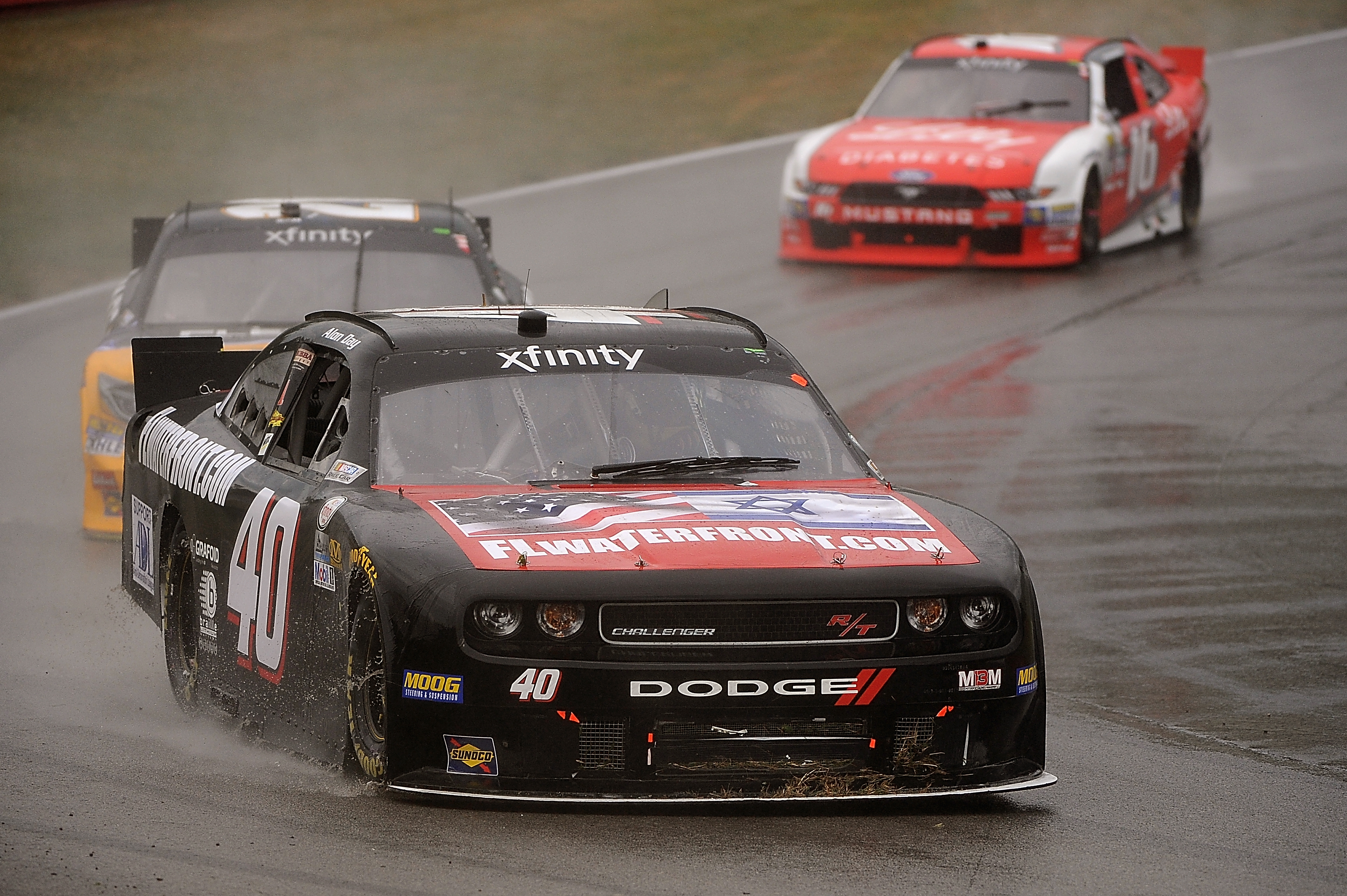 Day, who is part of the NASCAR Next program, potentially could have finished with a top five, maybe a top 10.
"It was fun until the second rain," he said. "When the second rain came, someone spun and hit my front suspension and damaged the car and, unfortunately, it was almost impossible to drive the car.
"I knew I had a shot for a top five, but it was impossible to drive from that moment. I just tried to survive and unfortunately it wasn't the same."
Day, who previously dabbled briefly (six races in 2012) in the Indy Lights Series, plans to drive in several more Xfinity races between now and the end of the season. His next race is in two weeks at Road America.
He also is in a heated championship battle in the NASCAR Euro Series.
"I'm hoping that at Road America, I can do the same – maybe even better," Day said. "We expect to do five more races, but it all depends on sponsorship and finding the budget.
"My expectation wasn't that high, to be honest. If I finished 25th, I'd be super high for that. Suddenly, I find myself fighting for the lead, and that's not bad, you know?"
Follow @JerryBonkowski