Dale Earnhardt Jr. said Friday that he intends to "get back to racing" when his symptoms clear, but he noted no timetable has been set.
"Our intentions are to get cleared and get back to racing," said Earnhardt, wearing a white Axalta T-shirt and red Axalta hat during a press conference at Watkins Glen International, his first comments to the media since being injured. "We're just taking it one evaluation at the time. It's frustrating to have to do it that way but that's the process. We hope and expect when we go back to the next evaluation we'll be symptom-free and see a timeline develop.
"The point right now is to get healthy. To get right. I'm not thinking about the 'what ifs.' We went into this with the intention of getting back into the car. I think that's a possibility and so do my doctors. It's frustrating that I've had to miss so many races."
Earnhardt has not raced since July 9 at Kentucky Speedway, sitting out because of a concussion. He said Friday he has ocular imbalance issues.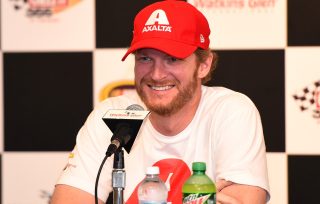 Earnhardt said Friday that he has not considered ending his career.
"When I first went to see my doctors on this particular incident, it was 'I need to get right, I need to get back into the car as fast as I can,' " he said. "I'm surprised I've missed this many races. I didn't think it would take this long. I didn't have a massive accident. I didn't have really crazy symptoms. This thing happened so awkward where we had the accident at Michigan and the symptoms crept in weeks later.
"I didn't think this was that serious, but it had gotten to a point where I definitely didn't need to be in the race car. From the very onset of this, it was 'This will go away in a couple of weeks, I'll miss a race or two and we'll get back in the car.' I'm thinking about well it's going to put more pressure on me to win a race and get in the Chase and all that stuff.
"I have every intention of honor my current contract (which expires after next season). I sat with (team owner) Rick (Hendrick) before this happened a couple of months ago to talk about an extension. That's the direction we are going. As soon as I can get healthy and get confident in how I feel and feel like I can drive a car and be great driving it, then I want to drive, I want to race. I miss the competition. I miss being here. I miss the people. As Rick likes to say, we've got unfinished business.
"I'm not ready to stop racing. I'm not ready to quit. It's a slower process. I wish it wasn't. I don't know how long it's going to take. I'm not going to go into the car until the doctors clear me. The is not my decision. I trust what my doctors are telling me. When they say I'm good to go I believe them.''
Alex Bowman drove for Earnhardt at New Hampshire Motor Speedway. Jeff Gordon has driven the No. 88 car since at Indianapolis and Pocono and is in the car this weekend at Watkins Glen. Gordon also will drive the No. 88 in two weeks at Bristol.
Earnhardt said in the Dale Jr. Download podcast earlier this week that doctors believe his injury started with his June 12 crash at Michigan International Speedway, thought the effects didn't emerge until weeks later.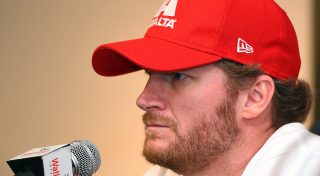 "I just want to get better," Earnhardt said Friday at Watkins Glen. "Nothing else is a priority except for getting the symptoms to clear up and get back to feeling like yourself. That's all I'm thinking about. The process isn't as fast as you would like it to be. I talk to my doctor every other day, sometimes for an hour or two about the psychological side of it because it can become very frustrating and being a race car driver, we don't have a lot of patience to begin with.
"It's a challenge, but we've got some great doctors, and I really believe and trust what they're telling me. I'm really confident and positive that they tell me without question we're going to get back to normal. I just have to do what they tell me."
Asked if he has considered ending his racing career because of this injury, Earnhardt said: "No. My doctor thinks that to get through the therapy and to get through the symptoms you don't need to be adding stress to your life and stress will slow down the process.
"So going into those kind of conversations aren't even necessary at this particular point. The point right now is just to get healthy, just to get right. When we first went into the doctor's office we never anticipated being out this long, but unfortunately it's a slower process. There's no guidelines or rulebook, there's no consistent history of how long this stuff really takes to clear up, so we're just having to be patient."
Earnhardt, though, said doctors are confident he'll get better.
"My doctors feel great about the opportunity that I will not only be healthy again, but they can actually make my brain stronger to be able to withstand these common events," he said. "The event that I had at Michigan that they tied this concussion to I shouldn't have had a concussion from. I should be able to get through events like that without having any issues. So they're not only working to get me healed up but working to make it to where I can compete and go through events like that without any concern."