Tony Stewart's last shot at conquering the Southern 500 will be a tribute to a driver and paint scheme combination that did it twice.
Stewart, who retires from Sprint Cup competition after this season, will make his final start at Darlington Raceway in a Coca-Cola sponsored homage to Bobby Allison's Southern 500 winning cars from 1971 and 1972.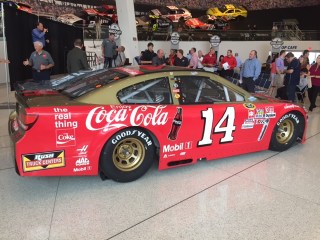 The car was unveiled Wednesday at the NASCAR Hall of Fame in Charlotte, North Carolina, which Allison was inducted into in 2011. Stewart has been sponsored by Coca-Cola his entire Sprint Cup career, which began in 1999.
"Tony Stewart is a real racer who would've fit right in during the time I raced in NASCAR," Allison said in a press release. "He's a perfect fit for this Coca-Cola Chevy. I know what car I'll be watching in the Southern 500."
The paint scheme on the No. 14 will include Coke's slogan from the 70s – "The Real Thing" – and gold wheels and cubic-inch displacement boast on the hood, just like Allison's car did.
Darlington is one of two tracks Stewart has not won at in Sprint Cup competition. The other is Kentucky Speedway.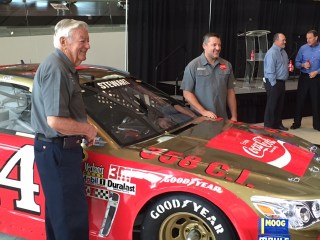 In 23 Sprint Cup starts, Stewart has never led more than 10 laps at Darlington. Allson led 558 of the 734 laps available (76 percent) in the 1971 and 72′ Southern 500s. The 1983 Sprint Cup champion won at Darlington five times. Stewart has finished third in the Southern 500 twice.
"Races at Darlington have been pretty tough for me," Stewart said in a press release. "We've had some decent runs there, but it just seems like you really have to put everything together the whole day. If you can say you won a race at Darlington – that's a feather in your cap because you conquered something that's very hard to obtain. That's something to be proud of, knowing that you're in a group of drivers with names like Allison and Pearson and Petty –the pioneers of our sport."
Stewart's final Southern 500 can be seen on Sept. 4 on NBC.
MORE: All of the Southern 500 paint schemes