David Pearson's name once again will appear on a Sprint Cup car.
The name of Pearson, who has the second-most wins in Sprint Cup history with 105, will be seen on the door of Ryan Blaney's No. 21 Ford in the Sept. 4 Southern 500 as part of a special paint scheme paying tribute to the driver.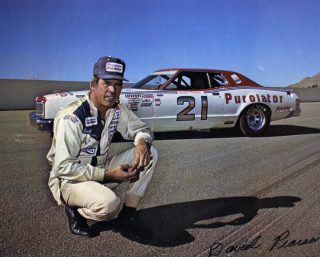 The paint scheme for Blaney's car, which was unveiled Tuesday at the NASCAR Hall of Fame in Charlotte, North Carolina, is based on the one used by Pearson in the 1976 season. That year Pearson, driving a 1976 Mercury Montego, unofficially won the triple crown of NASCAR, visiting victory lane of the Daytona 500, the World 600 (now the Coca-Cola 600) and the Southern 500 at Darlington Raceway.
Pearson won 10 of the 22 races he ran in the 1976 season, which had a total of 30 races.
"David Pearson is such an important part of our history, getting 43 of our 98 wins over seven years, that we're proud to put his name on this race car," said team co-owner Len Wood in a release. "We had to incorporate our current sponsor Motorcraft/Quick Lane into this design yet stay true to the original, right down to the blue stripes across the hood and down the side panels and the silver wheels."
Pearson won at Darlington Raceway 10 times in 47 starts. The Wood Brothers have eight wins at the egg-shaped track in 89 starts.
The tribute to Pearson can be seen with all of the other throwback paint schemes on Sept. 4 on NBC.