Midway through its 10th season in NASCAR's premier series, Toyota Racing Development is pacing Sprint Cup.
The circuit's defending champion (Kyle Busch) drives a Camry that just won its second consecutive Brickyard 400. Toyotas have won half of the first 20 races in the 2016 Sprint Cup season. And between Joe Gibbs Racing and Furniture Row Racing, five Toyota drivers are locked into the playoffs.
TRD builds engines for the Gibbs and Furniture Row teams, shipping the powerplants thousands of miles weekly from its Costa Mesa, California, base. It's the fifth season that TRD has been supplying engines to Gibbs in a cross-country gambit that began with some hiccups in horsepower and reliability.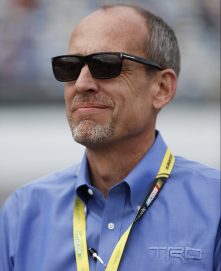 "I didn't know three to four to five years ago if we could bridge that gap," TRD president David Wilson said on this week's NASCAR on NBC podcast. "What I can tell you very matter of factly now is we have. Getting the right people in the right positions has given us the ability to build a level of trust and confidence in each other. I like to say we're so closely aligned now, we can finish each other's sentences, figuratively speaking."
In the podcast, Wilson explained how TRD supports its NASCAR teams through its twin headquarters. The manufacturer also has a chassis development facility in Salisbury, North Carolina, which is close to Gibbs' shop and several other teams located around the Charlotte region.
More than 100 people work on engines at TRD's Southern California hub, which is 3,000 miles from Gibbs' four-car team, but the distance has become negligible.
"As an engine builder, there's an oft-used saying that sometimes the biggest compliment is silence, because it means (the engine) is doing its job," Wilson said. "Today, the crazy thing is one of our toughest customers from a driver standpoint is Kyle Busch. It's unusual for him to get out of the race car now and not throw a compliment to TRD and the engines. I'm still trying to get used to that."
Wilson also discusses the path that led him to racing, his love of the movie Lost In Translation (fostered by his many trips to Japan) and the challenge of ensuring auto racing remains relevant to youth.
You can listen to the podcast by clicking below or download and subscribe to it on iTunes by clicking here. The free subscription will provide automatic downloads of new episodes to your smartphone. It also is available on Stitcher by clicking here and also can be found on Google Play, Spotify and a host of other smartphone apps.
Below are time cues to provide easy referencing while listening to the episode: