Darrell "Bubba" Wallace Jr.'s No. 6 Ford Mustang will carry the colors of "Shredder" – the arch-nemesis of the Teenage Mutant Ninja Turtles – in the Sept. 17 NASCAR Xfinity Series race at Chicagoland Speedway.
"I grew up watching the Teenage Mutant Ninja Turtles and Shredder was always a cool character," Wallace said. "Hopefully Shredder and the Foot Clan will lead the way to Victory Lane."
Wallace was in Chicago Monday to promote the race, to unveil the design of the car he'll drive in the event, as well as to tout the Sept. 18 Teenage Mutant Ninja Turtles 400, the kickoff to this season's 10-race NASCAR Chase for the Sprint Cup Championship.
"It looks awesome," Wallace said of his car's unique paint scheme. "It's a cool concept. I'm proud to represent Shredder. Although it's the villain, that's OK, I'll play that for a race."
But earlier Monday, Wallace was viewed as a real-life Shredder/villain in the eyes of a security guard in front of the famous Bean sculpture in downtown Chicago's Millennium Park.
Wallace and a crew from Chicagoland Speedway were live-streaming on Facebook. But because Wallace and his posse didn't have a film permit, they were stopped in their tracks just seconds after going live globally.
"You have to stop the live feed," the guard demanded. "You can't do it, not until they (apparently, her supervisors) tell me that it's OK."
Wallace tried to put his charm on the guard, asking her to join him in the video, but she wasn't having any of it. "Nope, I don't want to be in it," she said.
Wallace gave it one last shot, appealing to the guard's sense of fair play: "You're ruining the video."
To which the guard stood her ground and simply replied, "Sorry."
The rest of the day turned out better. Wallace and the Turtles enjoyed a pizza party with dozens of kids at the James Jordan (in memory of Michael Jordan's father) Boys & Girls Club.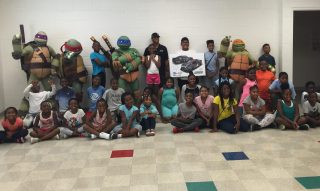 "It was a lot of fun," Wallace said. "It's always good to visit the Boys & Girls Club. You always see the excitement on their faces, whether it's a NASCAR driver or the Teenage Mutant Ninja Turtles."
Wallace got slightly dissed for a second time then but took it good-naturedly. "(The kids) were more excited about the Turtles than me, which is totally cool, I get it," Wallace said. "I'm a huge fan of them, as well."
Follow @JerryBonkowski