Pole-sitter Kyle Busch will have the stall closest to pit exit for Sunday's Brickyard 400. Chase Elliott will have the first stall near pit entrance.
Drivers with either an opening before or after their stall are Busch, Kevin Harvick, Tony Stewart, Jamie McMurray, Brad Keselowski, Jimmie Johnson, Paul Menard and Elliott.
NASCAR confirmed Sunday morning that they will use 12 timing zones instead of six for today's race after doing so in Saturday's Xfinity race.  This was done to prevent drivers from accelerating after passing over the last timing line before their pit stall.
The numbers in the boxes represent the car number. The number below the box represents the pit stall.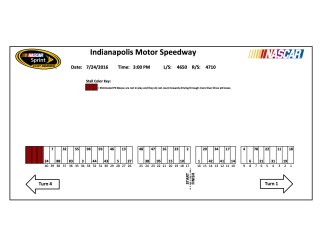 Here is a look at each of the timing zones, which have been doubled, for today's race.