INDIANAPOLIS — He won't be racing Sunday at Indianapolis Motor Speedway, but Dale Earnhardt Jr.'s name will carry on at the Brickyard.
After track workers removed a sign Friday afternoon (at the behest of Hendrick Motorsports) that listed Jeff Gordon as the replacement driver of the No. 88, Earnhardt's name was above the team's stall when the Sprint Cup garage opened at 8 a.m. ahead of Sprint Cup qualifying Saturday afternoon.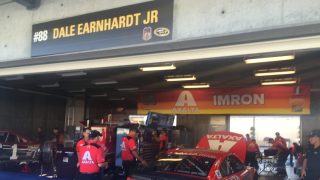 Gordon was 25th fastest Friday afternoon in the final Sprint Cup practice session but was fastest on his final lap and is optimistic about finding speed for qualifying.
"It was one of the most challenging days I've had in a race car to try to get comfortable, be consistent, have the speed and give good feedback," he said Friday. "I still love this track, and I'm glad that we are doing this (at Indy) because I think that helps me have the confidence to be able to learn faster, but it's tough. It was tough.  That first run I was like 'wow' I forgot how hard of work this is."