The numbers favor Erik Jones.
Through the first half of his first full-time season in the Xfinity Series, Jones has performed marginally better than Chase Elliott when he won the series championship in his rookie season in 2014. Elliott stands as the only Xfinity driver to win the title in his rookie year.
The one advantage Jones has is that he ran 26 Xfinity races before this season, which NASCAR considers his rookie year. When Elliott won the 2014 title, he had not competed in the Xfinity Series before that season.
After beating Kyle Busch in a prestigious late model race, the Snowball Derby, in 2012 at 16 years old, Jones' talent has been praised for years. In 2015, he backed it up by winning both Rookie of the Year honors and the Camping World Truck Series championship.
Elliott is also a highly touted and equally impressive talent, who is now in the midst of his rookie Sprint Cup Series season. When he won the 2014 Xfinity title with JR Motorsports, Elliott did so on the strength of three wins in 33 races with 390 laps led, 26 top-10 finishes and 16 top fives.
But here is how the two compare through the first 16 races of their first full-time seasons: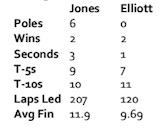 When looking at their two wins, Elliott got there quicker. Elliott won back-to-back races at Texas and Darlington in the sixth and seventh events of the 2014 season while Jones earned his first win of the season in the seventh race at Bristol. His second win of the season came in race number 10 at Dover.
They were not Jones' first two career wins, though. Jones ran a limited schedule in 2015 and won in his ninth attempt at Texas as well as at Chicago in race 14.
As for Elliott, he scored his third and final win of his rookie season in the series 18th race at Chicago. Jones will look for his third win of the year in Saturday's AutoLotto 200 at New Hampshire Motor Speedway.
One major difference between Elliott and Jones' rookie season will be the Chase playoff that makes up the final seven races of the season. Elliott did not compete under a Chase format in 2014, which Jones will do this year as 2016 is its inaugural season in the series.