FORT WORTH, TEXAS — Matt Crafton has been around awhile.
"The 1902 testing grounds for the first automobile created? You drove on that track, right?" jokes Ben Rhodes in the cramped confines of Crafton's hauler on a hot June day.
It hasn't been that long. But Rhodes, born in 1997 and one of Crafton's ThorSport Racing teammates, is part of a youth movement in NASCAR that does its best on a weekly basis to make it feel as if it has been.
Crafton, a two-time champion of the Camping World Truck Series, first ventured into the series on Oct. 28, 2000, when Rhodes was 3 years old.
Crafton was 24 and months away from the start of his first full season on the Truck circuit.
He also was 16 years away from being its last, true lifer.
MULLET MAN
There once was a mullet.
It belonged to Matt Crafton, high school student.
"It was probably my senior year of high school," Crafton says, standing in his hauler at Texas Motor Speedway two days shy of his 40th birthday. "I know I didn't leave it on much longer than that."
The day before, a picture of Crafton smirking in a high school class photo with the "party in the back" hairdo surfaced on Twitter thanks to "#NASCARThrowbackThursday."
"I showed that to Jesse Little, he had the mullet, same deal as me," says Crafton of the 19-year-old who has made one series start this season. "I said, 'See, everybody made fun of my mullet and now they go 'Look, look at Jesse Little. He's got a mullet.'"
When Crafton's mullet was vintage and not "vintage," the Camping World Truck Series didn't exist. Its inception was still at least two years off in 1995.
Crafton and his mullet resided in Tulare, California, 60 miles north of Bakersfield. His dream for racing was fueled by watching his father, Danny Crafton, a nine-year veteran of NASCAR's old Featherlite Southwest Tour.
"I didn't get to do a lot of things that I wanted to do in high school because I was working on a race car and being at race tracks and stuff like that," Crafton says. "So I didn't get to go out to parties and dances, the cool things at that time. I thought, 'Man, I'm going to regret this one day.'
"But at the end of the day I could always say it would pay off if I worked hard."
The love affair that kept him busy began at 7 when Danny Crafton bought his son a go-kart. Matt Crafton's earliest vivid memory of his racing career came a year later, and it hurt.
"(I was) leading it and spinning out with probably three or four laps to go," Matt Crafton remembers. "I had such a big lead, I tried to pull right back in front of everybody and absolutely got nailed in the left side and people went over me."
When his father arrived on the scene, tears streaked Matt Crafton's face and tire marks were visible on his helmet.
"My dad asked me 'Are you going to cry or you going to race?'" Crafton says.
CALL TO ACTION
While preparing for the 1996 St. Patrick's Day 100 at Altamont Motorsports Park, Danny Crafton blew a radiator hose on his No. 46 Ford. His car backed hard into the wall and hurt Danny Crafton's back "really, really bad," Matt Crafton says.
The injury led to Matt making his Featherlite series debut a month later at Mesa Marin Raceway, piloting the family's No. 46 to a 15th-place finish.
But the No. 46 wouldn't appear again until two races later as Danny Crafton tried to give it a go at Sonoma Raceway. His attempt didn't last long. After the first practice session at the road course, Danny Crafton emerged from his car "pale white" from his back pain.
"I can't do it, you want to try it?" he asked his 19-year-old son. Matt Crafton had never started on a road course outside of the go-kart circuit.
He made the race. He spun out once, putting the car atop a tire barrier.
"It was quite a learning experience," he says.
GOING SOMEWHERE
After two championships and 13 wins, Matt Crafton doesn't consider the Camping World Truck Series the most competitive series he's ever raced.
That would be the Featherlite Southwest Tour.
"The greatest NASCAR touring, fiberglass body, late model, whatever series there was," Crafton says 10 years after the series had its last say on the track.
1997 brought Crafton's first full season in a series his dad had competed on a part-time basis since 1988 — the series Ron Hornaday Jr. won two championships before leaving for the fledgling Truck series.
Outside Hornaday, the series had title winners with the names of Roman Calczynski, Dan Press, Chris Raudman and in 1999, Kurt Busch. Crafton joined their ranks in 2000, when he earned two of his five series wins plus 11 top fives and 12 top 10s.
"Matt Crafton has been a lifer this whole time," Hornaday told NBC Sports last year. "It seems like everything I've done, he does the same, but he's three to five years behind me."
Crafton's last full-time season in the Southwest Series was 2000. He caught the attention of Duke Thorson, owner of ThorSport Racing. The team had been competing in what was then the Craftsman Truck Series since 1996 with Terry Cook as a driver.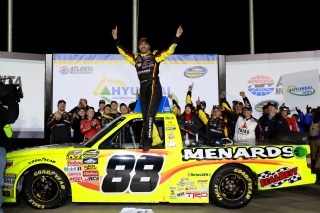 Crafton had "never missed" watching a Truck race in its early years.
"I always remember it was such an awesome, awesome series," Crafton says. "It reminded you of the Featherlight Southwest Tour. Just the beating and banging, running on a mile race track."
Crafton signed to drive for ThorSport in 2001 as Cook was leaving to start his own team. Crafton got an early start in the 2000 season finale as Cook drove for his team.
The California native made his Truck debut in the Motorola 200 at Auto Club Speedway. He qualified 17th and finished ninth. It was his first of 217 top-10 finishes in the series.
"The biggest thing I ever ran (before that) was one or two races at Las Vegas (Motor Speedway) in a late-model with a restrictor plate on it," Crafton says. Before that October weekend, Crafton had also never driven anything 180 mph into a corner.
Other drivers who finished in the top 10 that day were Busch, Jack Sprague, Greg Biffle, Cook, and Joe Ruttman. At 24, Crafton was one of two drivers in the top 10 under the age of 30 — the other was Busch, who was 22. The average age of the top 10 that day was 32.1.
In the June 25, 2016 race at Gateway Motorsports Park, in which Crafton recorded a DNF, the average age of the top 10 was 25.
MR. CONSISTENCY
"Crafton should be winning, my God, it's been long enough," Jack Sprague told NBC Sports last year. "He's not a youngster anymore either."
When the 2015 NASCAR season began, Crafton was 38 and had five Truck wins after 14 full-time seasons. It had taken until 2008, his eighth season in the series, to get his first win.
"There's some guys out there that do that," Hornaday says. "He's just consistent Matt Crafton. Once you get that taste in your blood, it comes pretty easy after that."
Even though he won only three times from 2013 – 14, Crafton became the first back-to-back champion in the Truck series behind 20 top fives and 36 top 10s.
Then at 38, Crafton embarked on his best season, doubling his win total with six victories. He's added two more in 2016 to make it 13. Crafton proves it's never too late to achieve firsts in your career. While it took 18-year-old William Byron less than 10 starts to win consecutive races, Crafton earned that distinction a month earlier after his 366th start.
The mark was highlighted for Crafton with his first win at Dover International Speedway in 16 starts.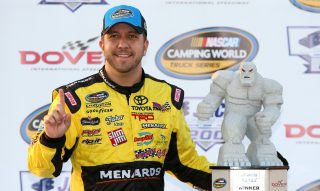 "Dover was one of the best ones I've had in a long, long time just because the fact I had so many big wrecks there," says Crafton, who once suffered a concussion at the Monster Mile and stayed overnight at a hospital
So excited, Crafton doesn't recall setting the trophy down until he arrived at his home in Mooresville, North Carolina.
Eventually, all of the "hard-nosed racers" Crafton came of age competing against in the truck series were replaced by those who'd have trouble growing a mustache.
Sprague, a three-time champion, made his last Camping World Truck Series start in 2008. Mike Skinner, the first truck series champion, made his final full-time start in 2010. Todd Bodine, a two-time champion, was last seen in 2013. Hornaday, the all-time series leader in wins with 51, hasn't driven a truck since the fall Texas race in 2014.
Then there's Crafton. He's the only truck champion from the last 10 years competing full time in the series, and he's doing so with the same sponsor, Menards, he's competed with every year but one since 2002.
Of his early years against the founders of the series, Crafton admits "I probably didn't lean on them as much as I should have."
But that shouldn't be a problem for those following him. Crafton is a constant presence for his three young teammates at ThorSport, all of whom are 24 years of age or younger.
"He's been huge," said rookie Rico Abreu, 24. "Off the track, on the track, mountain bike riding, wherever we go … Just so detailed about everything he explains and describes and what he feels, he's been doing it a long time. Being able to run over to his truck throughout practice or him come over and look underneath the splitter or work with my crew chief."
But his teammates are not the only drivers benefiting.
When Crafton's interview time is up, he and Rhodes walk out of Crafton's hauler into the bright Texas sunlight. They're on their way to the mandatory rookie meeting held at every track that Crafton leads.
Who better to advise the "youth movement" than a lifer enjoying his prime?