Erik Jones earned the pole for Sunday's American Ethanol E15 250 NASCAR Xfinity Series race during Saturday's qualifying at Iowa Speedway.
Jones covered the .875-mile oval with a top speed of 135.752 mph. It was Jones' sixth pole of the season and the ninth of his Xfinity Series career.
"To earn another pole this year is pretty awesome," Jones told Fox Sports 1. "Hopefully we can get another one. That'd be the big one for us."
Jones led a 1-2-3 Joe Gibbs Racing qualifying juggernaut, as last week's winner at Michigan, Daniel Suarez, had the second-fastest qualifying effort (135.385 mph). It's Suarez's third career front row start at Iowa.
"We know we have a fast car for the race," Suarez told Fox Sports 1. "We've got a good car and hopefully we'll finish one spot higher tomorrow."
Sam Hornish Jr., filling in for Matt Tifft (back injury), drove the JGR No. 18 Toyota Camry to the third-fastest speed in qualifying (134.933 mph). It is the first race Hornish has qualified for and will compete in since the 2015 season-ending Sprint Cup Series race at Homestead-Miami.
"I haven't been in a car for seven months, didn't even get a chance to go to Charlotte to sit in the car before we got here yesterday, they just put everything into where we had it two years ago," Hornish told Fox Sports 1.
Hornish won at Iowa in Spring 2014 and is hoping to repeat that kind of performance on Sunday.
"I'm really thankful I got the opportunity and I'm obviously sorry for Matt and hope he's doing better and the recovery will be quick," Hornish said. "But I feel bad I'm third here. Knowing that I'm only going to probably get one shot in this car this year, and the way it transitioned from the first group to the second, the driver made an adjustment and it was a little too much."
Here's how Saturday's Xfinity qualifying played out: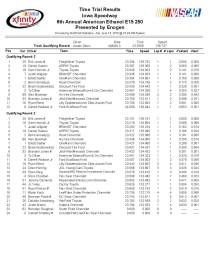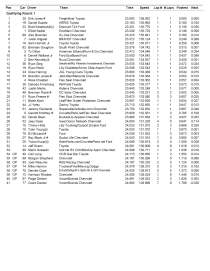 Follow @JerryBonkowski