A  fire broke out early Monday morning at the ThorSport Racing shop in Sandusky, Ohio. The Sandusky Register reported that multiple fire departments were called to the 100,000-square foot race shop.
Perkins Township's dispatch office reported a call about the fire at 12:12 a.m. ET.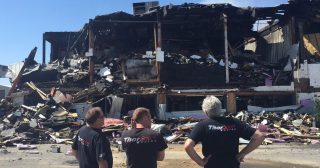 ThorSport Racing stated that the fire broke out in the basement of the shop and that no one was injured.
"We are currently working with the fire department and local officials to contain the blaze, and assess the damage," a statement from the team read. "We do not expect this to impact the team's competition schedule."
The series races Saturday at Iowa Speedway.
An official with the Perkins Township Fire Department said at 7:30 a.m. ET that it was an ongoing scene and had few details at the time.
The four-truck team — the longest tenured in the Camping World Truck Series — raced last Friday at Texas Motor Speedway with two-time series champion and current points leader Matt Crafton, Rico Abreu, Ben Rhodes and Cameron Hayley.
Raw video footage of the fire can be viewed at https://www.facebook.com/Sandusky-Scanner-Live-167797306707716/
Check back for more details as they become available.