Joey Logano's victory Sunday at Michigan International Speedway marked the 100th in the Sprint Cup Series for Roush Yates Engines.
The engine consortium was formed before the 2004 season by rival Ford car owners Jack Roush and Robert Yates. It currently supplies the engines for all of Ford's teams in NASCAR's premier series – Team Penske, Roush Fenway Racing, Wood Brothers Racing, Richard Petty Motorsports and Front Row Motorsports.
"It's just a special day," said co-owner Doug Yates, son of Robert Yates. "To achieve that at Michigan, (it) just couldn't happen at a better place, and really all the credit goes to Ford Motor Company and all the great employees at Roush Yates. I've never been more excited about racing.  I'm so proud to be with Ford Motor Company and part of their team.  To win here at Michigan is really special, and to win ‑‑ I know it's not exactly Father's Day yet, but had a lot of special memories here with my dad, and got my girls with me today, so it's a great weekend."
Doug Yates said the company benefits from keeping all of the Ford teams under the umbrella of one engine supplier (as opposed to Chevrolet, whose engine-building in Sprint Cup is split between Hendrick Motorsports and Richard Childress Racing).
"It just speaks to what racing is today and the level of technology that's in the sport and what's required, the resources and the manpower and everything that goes behind it," Yates said. "We worked hand in hand with the engineers at Ford Motor Company, and it's really a joint effort, more than I've ever seen it. It really speaks to what racing is all about."
With Logano's win, Ford, which is headquartered in nearby Dearborn, also claimed the Michigan Heritage Trophy awarded by the track to the winning manufacturer.
"Obviously racing is hugely important to us at Ford; it's part of our DNA," said Dave Pericak, global director of Ford performance. "So to be able to win in our backyard means a lot to us, and then obviously to take this trophy home and share it with all of our employees. We have 1,400 employees here today sharing this win with us, so obviously that's really special to us. Obviously to be able to do all of this and celebrate Roush Yates' 100th win in Cup is just absolutely phenomenal.  It just means the world to us."
There have been 14 winners with Roush Yates engines since it opened. The list:
—Carl Edwards, 23 victories
—Greg Biffle, 18 wins
—Matt Kenseth, 17 wins
–Joey Logano, 13 wins
—Brad Keselowski, 10 wins
—Kurt Busch, six wins
—Jamie McMurray, two wins
—Elliott Sadler, two wins
—Mark Martin, two wins
—Marcos Ambrose, two wins
—David Ragan, two wins
–Dale Jarrett, one win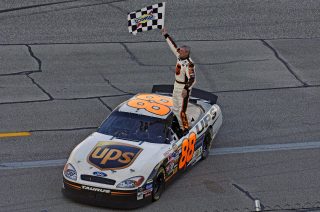 —Trevor Bayne, one win
—Aric Almirola, one win