So close … yet again.
It's become a regular refrain for Kyle Larson. The third-year Sprint Cup driver is still in pursuit of his first career win in NASCAR's premier series.
And once again, he came close but couldn't quite get over the hump, finishing third in Sunday's FireKeepers Casino 400 at Michigan International Speedway. It was Larson's second top-three finish in the last four races and third top-five of the season.
Larson was forced to drive without regular crew chief Chad Johnston, who was suspended for Sunday's race for lug nut issues from last week's race at Pocono.
As if that wasn't bad enough, Larson's Chip Ganassi Target Chevrolet also failed post-race inspection on NASCAR's Laser Inspection Station. Any penalties are expected to be announced later this week.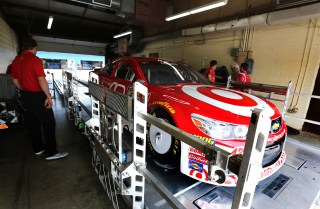 Larson spoke to the media after Sunday's race but before the inspection issue was announced.
"It was a solid run for us," he said. "We've been consistent as we've been in the last year and a half anyways, so it's nice to be running up front and getting closer to a win."
"Still got some work to do, but it is nice when we can get a package like this thrown at us just a few weeks before the race, and our guys at the shop and here at the racetrack can look at engineering data and come up with a good piece."
Larson now has more top-five finishes (three) than he had last season (two). He has eight top-five finishes as a rookie in 2014.
And with 21 races remaining this season, his four top-10s are a far cry from the 10 he had last season and the 17 he recorded in 2014.
Larson is optimistic that even better performances are in his near future. He's also looking forward to further growing his status in the Sprint Cup ranks as many of his veteran peers begin to retire, such as Jeff Gordon after last season and Tony Stewart after the current campaign.
"You'll see a big change in the next six or seven years probably with some of the veterans leaving the sport and lots of new guys filling their seats," Larson said. "It's exciting to see.
"I'm happy I got here in the first small wave of seats opening up. But yeah, today was cool. (winner) Joey Logano, he's a couple years older than me; Chase (Elliott, runner-up), I don't even think he's 21 yet. So (today was) probably the youngest top three the Cup Series has ever had. It's pretty special."
Follow @JerryBonkowski