Team Penske swept the front row during qualifying Friday for the Axalta "We Paint Winners' 400 at Pocono Raceway.
Brad Keselowski grabbed the pole position – the 12th of his Sprint Cup career – with a speed of 181.726 mph.
"There was definitely rain in that last round, but I think there were enough cars to keep some heat in the track," Keselowski told Fox Sports 1. "It's really cool for Team Penske to be on the front row 1-2. … There's a lot of good momentum and a lot of good things happening, and we just want to keep it up."
Teammate Joey Logano took the outside pole for Sunday's race with a speed of 181.400 mph.
"It stinks for us," Logano told FS1. "The last two weeks we won the first two rounds and gave it up in the last go-round to qualify second. I'm kind of mad about it, but second is a good thing."
Matt Kenseth was third fastest at 181.316 mph, followed by points leader Kevin Harvick (181.192) and Carl Edwards (180.759).
Nearly a third of the field was forced to qualify without any prior practice time. Twenty-eight of the 40 drivers were able to get on track Friday morning before rain ended practice.
Here's how qualifying played out: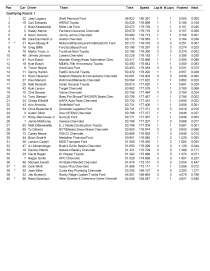 Follow @JerryBonkowski