Circle Sport-Leavine Family Racing will have a special car for Sunday's Axalta 400 at Pocono to raise awareness for individuals with special needs.
Inspired by a story of Blake Pyron, a young man with Down Syndrome who recently opened a snow cone business in his native Sanger, Texas, CS-LFR's No. 95 Chevrolet will carry a banner promoting Pyron's store: "Blake's Snow Shack."
The car, which will be driven by Ty Dillon also will raise awareness for Breckenridge Village of Tyler, Texas – a residential facility for individuals with special needs.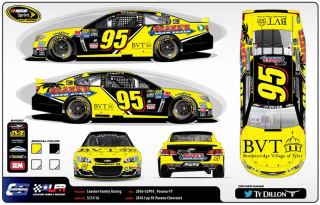 Breckenridge Village has special meaning for team owner Bob Leavine, who lives in Tyler with his family.
"We learned about this great young man from Sanger, Texas, and his family and his story really related to us," Leavine said in a media release. "Tanner, our grandson, is autistic. He is 21 and after graduating high school in 2015 he is now looking to that next step in his life – similar to Blake and his story.
"Our family has supported (Breckenridge Village) for a long time because of the work they do and the people there. We never thought about Tanner going there – but they have taken that young man and helped him grow and contribute.
"These are great stories that people need to be aware of and we had an opportunity to do that on our Pocono car. We wanted to put it on the car so we could make a statement and say, 'Hey, we are behind this.'
"We need to help our special kids because it takes a lot of resources. People need to know about this because they can help. Breckenridge takes donations for support. They have financial aid for those that need monetary help to attend there."
Blake Pyron will attend this weekend's race with his father. The No. 95 crew will wear purple Blake's Snow Shack t-shirts during the race weekend.
"The Leavine family – they touched our hearts," Blake's mother, Mary Ann Pyron, said in a statement. "We have tried to show other people that you can believe in yourself and your child can do anything that they want to.
"There is no limit for my child. And I feel that the Leavine family reaching out and for them to share us with 'NASCAR Nation' is great. We feel beyond blessed."
Also attending the race will be Melynda Leavine Hensley and her son Tanner, along with several representatives from Breckenridge Village.
"We are grateful that we have this opportunity to bring attention to the things that people with special needs accomplish, to show NASCAR and its fans that there are no boundaries to what they can do," Hensley said.
Follow @JerryBonkowski