Mike Bagley and Pete Pistone take a turn answering questions on the latest NASCAR on NBC podcast instead of asking them as they do every morning on SiriusXM Satellite Radio.
The hosts of "The Morning Drive" became a team nearly seven years ago and since have been a fixture from 7-11 a.m. daily on SiriusXM's NASCAR channel. Blending a mix of irreverence and frivolity with a discussion of hot-button issues and news, the show has become a direct line to the pulse of NASCAR Nation through its newsmaker interviews and fan debates.
NASCAR executive vice president and chief racing development officer Steve O'Donnell is a weekly guest on the program, an indication of its sway as a sounding board for the sanctioning body.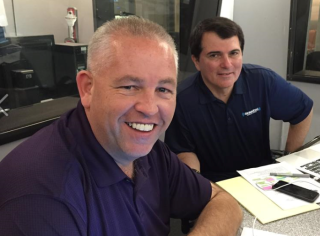 "We're very well aware they listen to us in Charlotte and Daytona Beach," said Bagley, who has hosted the show since 2008 and was joined by Pistone after the April 2009 death of journalist David Poole. "Really, that's flattering to us because that tells me they value what we put out. And they value our listeners and our callers and the feedback and emails we get. They use that as a test of, 'Hmm, the boys are talking about this this morning. What are the fans saying?"
Other topics covered by Bagley and Pistone:
–How they handle controversial subjects, detractors and the fine line between hearing fans out and shutting down the unhealthy debates;
–Their divergent personalities and backgrounds in NASCAR and how it shapes the direction and tenor of the show;
–What's worked and hasn't among the show's regular features and some of the best and worst interviews.
After the segment with Bagley and Pistone, NBC Sports motorsports researcher Christopher Lees stops by to add historical and statistical perspective to the triumphs of Indianapolis 500 winner Alexander Rossi and Coca-Cola 600 winner Martin Truex Jr.
You can listen to the podcast by clicking below or download and subscribe to it on iTunes by clicking here. The free subscription will provide automatic downloads of new episodes to your smartphone. It also is available on Stitcher by clicking here.
Here are times cues for easy referencing while listening to the episode: