Sunday's Coca-Cola 600 is the longest race on the NASCAR Sprint Cup Schedule: 400 laps and 600 miles in total.
There will be numerous pit stops due both to the overall length of the race, as well as the number of potential cautions (there were eight cautions in last year's 600).
Pole sitter Martin Truex Jr. has the first pit stall, followed by Joey Logano, Kasey Kahne, Ryne Blaney and Casey Mears.
Those at the opposite end of the pit stall are AJ Allmendinger, Regan Smith and Brad Keselowski.
Here's how the pit stall lineup looks: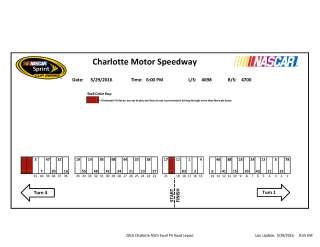 Follow @JerryBonkowski