NASCAR driver Jimmie Johnson and Mike Wells, President and CEO of Wells Enterprises, Inc., makers of Blue Bunny Ice Cream, have announced the five recipients of this year's $25,000 Blue Bunny Helmet of Hope grants.
The Helmet of Hope program allows fans and consumers to nominate and vote for not-for-profit organizations that support K-12 public education. Nearly 225,000 votes were cast this year for the 10 semifinalists.
The 2016 Helmet of Hope recipients are:
* ArtWell (Philadelphia)
* Carlos Gilbert Elementary Parents! Teachers! Kids! (Santa Fe, New Mexico)
* Change for Kids (New York City)
* Inside the Outdoors Foundation (Costa Mesa, California)
* Mercy Child Advocacy Center (Sioux City, Iowa)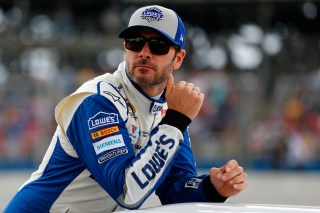 "The vote this year was incredibly close," Johnson said in a media release. "As we celebrate the 10th anniversary of the Jimmie Johnson Foundation, Chani (wife) and I are thrilled to have partners like Blue Bunny that make it possible for us to provide funding for the great work the five grant recipients are doing to support K-12 public education."
The five remaining semi-finalist charities each received a $1,000 grant and a Blue Bunny Ice Cream party, as well.
Since its inception, the Blue Bunny Helmet of Hope program has awarded over $810,000 to 81 different charities.
Follow @JerryBonkowski