NASCAR teams will descend on Dover International Speedway this weekend with a small army of engineers seeking speed.
Meanwhile, a contingent of high-ranking racing representatives will descend on another NASCAR track seeking the next generation of bright young minds.
Alba Colon, the NASCAR Sprint Cup program manager at General Motors, will be at Michigan International Speedway for Formula SAE Michigan, a four-day event beginning today that will pit 120 universities in a competition to develop a prototype race car while being tested on the automotive industry principles of research, design, manufacturing, marketing and finances.
In recent years, Colon has attended the event along with reps from Hendrick Motorsports, Richard Childress Racing, Chip Ganassi Racing, Joe Gibbs Racing, Toyota and other NASCAR entities.
She also has seen reps from companies outside of racing such as Space X and Tesla.
"Because they know there are 2,000 young engineers there that are specialists," Colon said. "They have mechanical engineering degrees, most of them from working on the car. They have the passion. Those are the people you want.
"We all go there to have a competition, to get talent, every year. I love it. But I never thought it was going to get like that."
Colon, a native of Puerto Rico who came to the United States (and employment at GM) through involvement in a similar student project, has witnessed engineering transform NASCAR over the past 15 years, placing a heavier emphasis on college educations and computer simulations.
But as the trend has resulted in all the powerhouse teams putting dozens of engineers on their payrolls, it has occurred at a time when the candidate pool for the positions has gotten scarce.
"We have all learned there are less and less engineers now in the United States, believe it or not," Colon told NBC Sports in a recent interview. "There are more coming from outside the United States."
Rodney Childers, crew chief for Kevin Harvick, said the shortage was evident during the offseason when championship-caliber teams were struggling to fill spots.
"There was a time where there were too many engineers to go around," Childers told NBC Sports in January. "Now there's not near enough to go around. All you do is try to find good engineers all the time.
"I think they all fell off the earth. There were a few years where there were so many, and they were all coming by the shops all the time. Now no one can find them. I'll have the guys at Gibbs send me text messages, 'You know any engineers at all?' It's just hard to find good ones anymore."
It's resulted in a push within NASCAR to raise awareness about the need for more engineers.
Next weekend, Homestead-Miami Speedway will play host to a Ten80 Education event for more than 400 middle school and high school students from 40 teams around the country. The event, which is held at the remote control circuit of the track, showcases the teams' engineering, enterprise and robotics skills in the National STEM League Finals.
Colon is heavily involved with SAE International, an automotive-focused engineering organization that helps highlight STEM (science, technology, engineering, math) programs in schools.
Colon has talked to students in Daytona Beach, Chicago and Phoenix this year.
"I've been blessed to go to schools and promote education is important and don't be afraid of math and science," she said. "And through my position, because many Latin Americans, especially little girls, they had never thought, 'Yeah, how can I go and get to NASCAR and do racing?' So I have become, without wanting to be, an example as, 'Hey if you're starting in a technology career, that's how I got here.' That's a passion of mine."
Jamie McMurray's No. 1 Chevrolet hosted Andrew Barberena, a Martinsville High School senior, as an honorary pit crew member for the April 1 race at Martinsville Speedway. Barberena, the captain of his school's robotics team, aspires to study engineering and eventually work in racing.
McMurray, who once built a shock dyno at home years ago to keep up on his cars' setups, said the increasing technological impact in Sprint Cup has made a college degree a virtual necessity.
"It has evolved so much and with the (computer) simulation now, like we changed four or five things on our car and it's crazy they simulate the lap and it tells you that it should be tighter at this part in the corner, it should be freer in this part of the corner and it's right," he said. "It has changed so much. Not only since I came along, but really in the last five years probably.
"I think Andrew has a goal of being in racing. When you get into algebra and geometry and you are like 'How am I ever going to use this later on?' I hope that kids now can see if you want to be a part of NASCAR that is so critical to understand that, especially if you want to be in engineering. If you want to be a part of this and make a difference, you have got to really educate yourself now so you can understand what is going to happen in the future."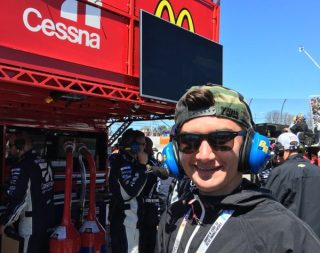 Being at the track made an impact on Barberena, who has been taking night classes in engineering at Patrick Henry Community College.
"It truly is amazing to see the professional level of how everything works," he said. "You can see the true engineering. You see the cars going fast (on TV), but you don't see the engineering that goes into everything for that to happen.
"The engineering that goes into the cars to make it possible to go around the track at 120 mph, that's very fascinating."
Colon also said it's very necessary given how the reduction in testing has placed a premium on accurate and reliable simulations that are indispensable in setting up a car. Analyzing the data has become nearly as important as gathering it, making the positions more specialized and mathematically driven.
"You need people to write code so the engineer can explain it to the crew chief and use it," Colon said. "I know we're trying to get costs out, but we need more engineers to be successful, because now it's the difference between the car that finishes first and second. You have to spend more money in the right places."
From today through Sunday, Colon and other members of the NASCAR community will be hunting in Michigan for the right people on whom to spend it.
"There's a lot of people craving (opportunities in NASCAR)," she said. "You just have to talk to them."