There are 40 cars entered for Saturday's Ollie's Bargain Outlet 200 NASCAR Xfinity Series race at Dover International Speedway.
The preliminary entry list released Monday lists three cars with drivers still to be named: the No. 24 Toyota owned by Greg Mixon, the No. 25 Chevrolet owned by Rick Ware and the No. 97 Chevrolet owned by Victor Obaika.
This will be the 65th Xfinity Series race held at the one-mile concrete oval. Chris Buescher won this race last spring en route to winning the Xfinity Series championship. Regan Smith won last year's fall race.
Kyle Busch has won a total of five races at Dover, including both races in 2014, while Joey Logano won four straight in both 2012 and 2013.
Here's the preliminary entry list for the Ollie's Bargain Outlet 200: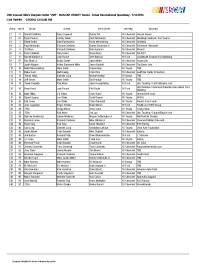 Follow @JerryBonkowski