Jeff Gordon fans will likely learn a lot more about their favorite driver with the upcoming release of Gordon's authorized biography.
"Jeff Gordon: His Dream, Drive and Destiny" will be released on Oct. 18. Co-written with best-selling author Joe Garner, Gordon is looking forward to taking readers inside all aspects of his life, from childhood through his divorce more than a decade ago to now.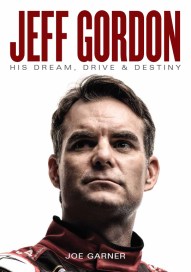 "I purposely waited until I retired from driving so the book would encompass my entire career," Gordon, a four-time Sprint Cup champion, said in a media release. "People are going to be able to read about me like they've never read about me before."
In addition to spending nearly 15 months with Gordon, Garner also had unfettered access to interview dozens of family members, friends, competitors and colleagues. The hardcover book also contains dozens of photos, many previously unpublished or released.
"(Gordon) put nothing off-limits and encouraged the people to speak honestly," Garner said. "And Jeff speaks candidly, sometimes brutally so, about his childhood, his much publicized divorce, those he competed against, his family, and life after racing.
"Racing is what Jeff did, it's not who he is. As he embarks on the next chapter of his life, it's finally time to let people know who Jeff Gordon really is."
Follow @JerryBonkowski