AJ Allmendinger's No. 47 Chevrolet will fly the colors of former Sprint Cup Rookie of the Year Bruce Hill in this year's Southern 500 at Darlington Raceway.
While keeping its traditional red, white and blue colors, Allmendinger's car will look like the one driven by Hill from 1974- 1977. The Topeka, Kansas, native was Rookie of the Year in 1975.
"Being remembered for something is always an honor especially as big as the sport has gotten," Hill said.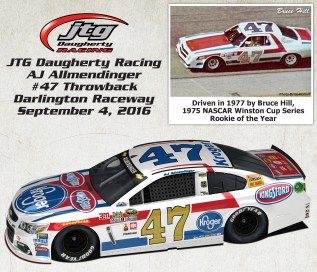 In the 1975 season, Hill recorded three top-five finishes, including a fifth-place result at Darlington.
"I thought it was kind of neat when they decided to do the throwback schemes at Darlington Raceway," Hill said. "I had good memories of Darlington. It was a track that you either loved or hated and that probably hasn't changed over the years. I loved the track because it was slick and I ran better on a slick racetrack because it was all about getting your car to handle. I always loved Darlington and you always love a track you have good luck at."
Hill finished 16th in the points in 1975 and beat out a driver named Carl Adams for the rookie award.
"My overall best NASCAR memory is winning Rookie of the Year mainly because I came out of Kansas and that was unheard of back then because it was a Southeastern sport," Hill said. "I think a lot of people thought I was crazy when I thought I'd take a jump and go down there and try it."
Hill would stay in the sport for 100 races, his last start coming in the Champion Spark Plug 400 at Michigan International Speedway in 1981.
Hill still resides in Kansas and will be in attendance this weekend at Kansas Speedway, where he will meet Allmendinger for the first time.
"I'm really looking forward to meeting Bruce on Friday," Allmendinger said in the press release. "I think what Darlington Raceway does to recognize former NASCAR drivers and the heritage of the sport is unprecedented. It's a great way to celebrate our sport and the people who made it what it is today. It's pretty neat to see all the sponsors and teams really get into it."
The Southern 500 is scheduled for Sept. 4 on NBC.