Chase Elliott continued his dominance as a top qualifier at restrictor plate racetracks, capturing the pole for Sunday's Geico 500 at Talladega Superspeedway.
Elliott, who won the pole for this year's season-opening Daytona 500, earned his second straight plate track pole position with a speed of 192.661 mph in Saturday's Sprint Cup qualifying at NASCAR's longest (2.66 miles) and biggest track.
It also came almost 30 years to the day — May 4, 1986 — that Chase's father, NASCAR Hall of Famer Bill Elliott, sat on the pole for the then-Winston Cup race at Talladega (although the elder Elliott finished 24th in that race).
"That's a really cool stat, Dad sat on the pole on this day 30 years ago," Chase Elliott said. "This is definitely a special place for him and it's cool to get that done today."
As for the younger Elliott, he reveled in his 192.661 mph qualifying performance.
"As I said in Daytona, this has got nothing to do with me," Chase Elliott said. "It's the same car we had at Daytona and brought another fast one here."
But Elliott also hopes for a much better finish Sunday than he had at Daytona (crashed and finished 38th).
The race last time at Daytona didn't go so good," Chase Elliott said. "Hopefully, I take what I learned and cut down on the mistakes I made in the Daytona 500.
"Our first goal is to get to the end of the race, and if we get there, to be smart."
Ty Dillon qualified second (192.424 mph), followed by Dale Earnhardt Jr. (192.293), Matt Kenseth (192.181) and six-time champion Jimmie Johnson (192.116).
A total of 41 drivers attempted to qualify, with Josh Wise falling short.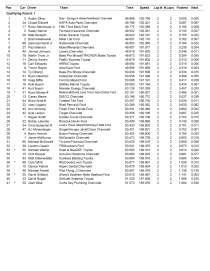 Follow @JerryBonkowski