Dale Earnhardt Jr. set a personal milestone by winning Saturday's ToyotaCare 250 at Richmond International Raceway.
Although Earnhardt now has 24 victories in NASCAR Xfinity Series competition in his career, Saturday's triumph was the first time he has won a race for the team he's a co-owner of: JR Motorsports.
"That makes it a little better," Earnhardt told Fox Sports 1. "I did what I had to do to get the win."
It was also Earnhardt's first win in the Xfinity Series since 2010.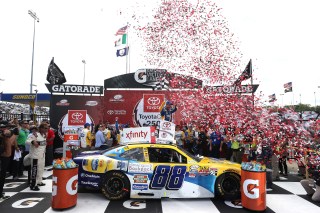 There were only two cautions in the 14o-lap race, but the second one, a multi-car wreck on Lap 134, altered the outcome.
Brennan Poole got loose going into Turn 1 off the restart, clipped Justin Allgaier and triggered a crash that took out two of the four Dash 4 Cash contenders in the event: Erik Jones and Allgaier.
"The 48 (Poole) got a terrible start on old tires and I drove down there into (Turn) 1 and I don't think he (Poole) expected to have as little grip as he did," Allgaier told FS1. "It's just a frustrating end to our day. We ran second the majority of the day.
"I felt like we could have at least finished second and possibly won the race on that last restart. I know it's the end of the race, but there's no time for that."
Poole suffered heavy damage to the right front of his car but continued.
Earnhardt led 128 of 149 laps, including nine laps of overtime.
Runner-up Ty Dillon earned the $100,000 Dash 4 Cash prize, while Elliott Sadler finished third, followed by Daniel Suarez and Austin Dillon. Cole Custer finished sixth in his Xfinity Series debut.
"They were just too fast today," Ty Dillon said of Earnhardt on FS1. "We were right there, they just had us by a little bit. We're close, so close. We're getting better and better and to get our cars right."
MORE: Results of Xfinity Series race at Richmond
MORE: Daniel Suarez remains points leader after Richmond Xfinity race
HOW EARNHARDT WON: Junior not only had the best car, he also wound up being in the right place at the right time. On the restart following the first caution, he moved to the bottom of the track and got back into the lead just as the multi-car wreck occurred behind him.
WHO ELSE HAD A GOOD RACE: Ty Dillon had one of his strongest races of the season. … Camping World Truck Series driver Cole Custer finished sixth in his Xfinity Series racing debut. … While he is still seeking his first win of 2016, points leader Daniel Suarez held on to his lead with a strong fourth-place run. … Blake Koch stood out for one of the best finishes in his career: eighth place.
WHO HAD A BAD RACE: Erik Jones (finished 34th) and Justin Allgaier (35th) saw likely top-five finishes and a chance for the $100,000 Dash 4 Cash bonus end when they were involved in a wreck six laps from the scheduled distance. … Mike Harmon (36th) spun into the wall after being tapped by Erik Jones late in the race, causing the first caution.
NOTABLE: Despite being part of the trigger to the wreck late in the race, Brennan Poole continued and finished 10th. Said Poole: "I spun the tires a little bit from 2nd to 3rd (gear) and when we got to Turn 1, we kind of ran out of room, got together and crashed."
QUOTE OF THE DAY: "Kyle (Busch) wasn't here today, so we'll never know. He always does so well in these races. He wasn't out there today, so there was a little bit of competition on the table." – Dale Earnhardt Jr. on not having Kyle Busch in the race.
WHAT'S NEXT: Sparks Energy 300, April 30, Talladega Superspeedway
Follow @JerryBonkowski