Rain washed out the final 22 minutes of NASCAR Sprint Cup practice, as well as qualifying Friday at Richmond International Raceway.
Also washed out were both scheduled NASCAR Xfinity Series practice sessions.
With Sprint Cup qualifying also rained out, the starting lineup for Sunday's Toyota Owners 400 at RIR was set based upon the NASCAR rulebook, with the speeds incurred in the shortened practice session used to set the qualifying field.
Kevin Harvick will start from the pole, with Joey Logano on the outside of the front row.
A total of 41 cars attempted to practice before rain came. Cole Whitt was the slowest of the non-chartered cars and failed to make Sunday's race day field.
Here's how the starting lineup looks: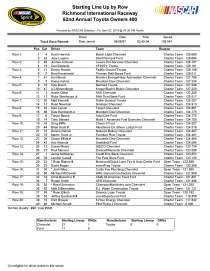 Follow @JerryBonkowski