The NASCAR Sprint Cup Series will play host this afternoon to the Food City 500 at Bristol Motor Speedway.
Here are the particulars:
(All times are Eastern):
START: NASCAR Hall of Famer Rusty Wallace will give the command for drivers to start their engines at 1:07 p.m. The green flag is scheduled for 1:13 p.m.
DISTANCE: The race is scheduled for 500 laps (266.5 miles) around the .533-mile track.
PRERACE SCHEDULE: The Sprint Cup garage opens at 6 a.m. The driver/crew chief meeting is at 11 a.m. Driver introductions are at 12:20 p.m.
NATIONAL ANTHEM: Country music singer and songwriter Clare Dunn will perform the anthem at 1:01 p.m.
TV/RADIO:  Fox will broadcast the race, beginning at 12:30 p.m. Performance Racing Network will broadcast the race on radio and at goPRN.com beginning at 12 p.m. SiriusXM NASCAR Radio will carry PRN's broadcast.
FORECAST: The wunderground.com site predicts 78 degrees at race time with a zero percent chance of rain.
LAST YEAR: Matt Kenseth won this race last year, leading 47 laps. It was Kenseth's second win in the prior four Sprint Cup races at Bristol and the fourth overall of his career. Joey Logano won last August's night race for the second consecutive year. Logano led 176 laps.
STARTING LINEUP: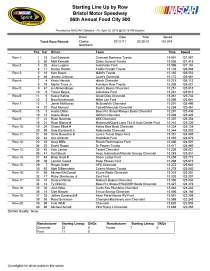 Follow @JerryBonkowski