Carl Edwards led a Joe Gibbs Racing onslaught in Friday's Sprint Cup qualifying at Bristol Motor Speedway.
Edwards took his second consecutive pole in as many weeks for Sunday's Food City 500 with a top speed of 127.997 mph in the final round of qualifying.
Edwards was followed by JGR teammates Matt Kenseth (second-fastest at 127.419 mph), Denny Hamlin (fourth, 126.804) and Kyle Busch (fifth, 126.553).
Busch is going for his third consecutive Sprint Cup race win this weekend, as well as looking to extend a four-race winning streak over the last two weeks across all three major NASCAR national series.
The only non-JGR car in the top five was Team Penske's Joey Logano, who was third fastest at 127.191 mph.
Sixth through 12th were Jimmie Johnson (126.461), Kevin Harvick (126.112), Martin Truex Jr. (126.021), AJ Allmendinger (125.815), Trevor Bayne (125.815), Kasey Kahne (125.732) and Brad Keselowski (125.691).
There was an unusual incident during the first round of qualifying. Ty Dillon hit the apron of the track coming off Turn 2 and slid down the backstretch, hitting the rear of Landon Cassill's car.
Cassill had completed his qualifying run and was slowing on the bottom of the track when he was hit by Dillon's car.
Dillon later returned to the track but did not advance beyond the first round.
Cassill's team will be able to repair the car for Saturday's two practice sessions and Sunday's race. Cassill tried to have a sense of humor about the incident.
"I was out of the way," Cassill said. "The guy spins out. When the cars spin out, they slide to the bottom. I probably saved him from hitting the inside wall. He should thank me."
Here's how Sprint Cup qualifying played out: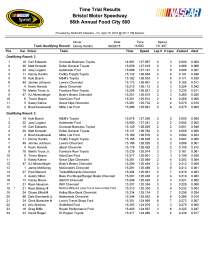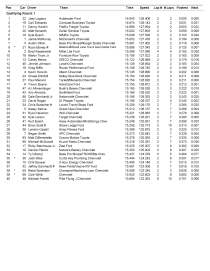 Follow @JerryBonkowski